Will travel
I've had this out-of-sorts feeling for a long time now... probably since the beginning of the year, or perhaps even longer. It's not super easy to describe. It's geographical. It has a little bit to do with the fact that I'm back living in the city that I was raised in (a city I don't super love sometimes so it's hard to rationalize being here), and something to do with the number of people in my life who travel a lot - either they're touring rock stars (literally) or authors, they get a grant from the government to live and study in New York for a year (Jamie!), or they live the kind of lives where they can afford to take proper vacations. I went to
Stephanie
's
Harlot on Tour
page the other day and thought "How come
she
gets to be flown all over the continent and have crowds of enthusiastic folks waiting to meet her?!" (The answer, of course is clear - because
she
wrote a book. Maybe someday I'll get my cookbook published and my publisher will send
me
to culinary hotspots all over the continent... but I digress.) Sufice it to say, I miss all those summers/autumns where I'd hop on a train/plane/bus and go put in some time on an organic farm where I'd sleep in a schoolbus/pickel barrel house/tent/truckhouse...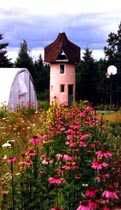 and it's time for a break from Toronto.
And so I'm going to Montreal. Tomorrow. Not for any particular reason other than to get out of town, and because I love Montreal and I currently have a bit of a break from work. Does anyone have any suggestions for while I'm there? Yarn shops, great veg restaurants or little cafes, used bookstores, best fabric stores, vintage clothing shops, shows to see, other exciting attractions? I have the regular little list of things to do and places to go when I'm in Montreal that I always hit, but I'm open to new suggestions.
But here's the even bigger news that I just found out:
I'm going to Italy!!!!
Next month. For two or three weeks, I expect. Leaving September 6 or 7. The moms of my favourite 2-and-a-half year-old and 10 month-old need an extra pair of hands for their trip and I'm not one to argue - even if it means missing the first few weeks of my new
school
. Have any of you been to Italy? Tuscany in particular?
Bring on the travel tips!