Things to celebrate
First off, this is my hundreth post on the blog.
Youpee!
(as my Romanian Anatomy & Physiology prof would say.)
Let's celebrate by you leaving a little comment. Tell me if you've been reading for a while, or if you just came across this weblog by accident today. Give me heck for being an inconsistent poster. Lemme know if you think I should keep going with this thing, because somedays I'm not sure. I promise I won't bite (unless you try to tell me how to eat... okay, sorry, just a joke!)
And second, I have a new zine out. Nope, apologies, it ain't the next
Take Back the Knit
(which is coming, don't worry), but it's something I'm really quite proud of: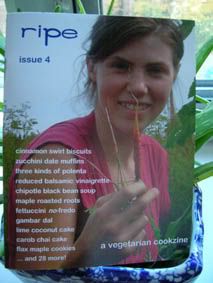 Ripe #4
.
A cookzine with 40 recipes. And just like
TBtK #2
it was offset-printed, with a colour cardstock cover (thanks in large part to a whole lot of effort from my dad).
It includes many of the super recipes you've seen on Foodie Fridays here at Domestic Affair, plus a number of others.
It's $5 (+ postage). So quick! Hop on over to the
ordering page
!
Speaking of which, I'm now accepting Euros.
And I also finally have back in stock this super zine by the amazing
Ayun Halliday
:
East Village Inky
.