Cable love
Saturday night (did I ever expect as a teenager that my Saturday evenings in my mid-twenties would be so... so domestically-oriented?)
Jill
came over for dinner, some catching up and, of course, some knitting.
In an effort to do a little stash-busting, I pulled some
Manos
out of
that big chest of drawers
. I was going to make
Rachael
's
Hottie Cozy
(which, by the by, will be featured in this upcoming issue of
Take Back the Knit
, if it ever comes out!).
Jill acted as my swift: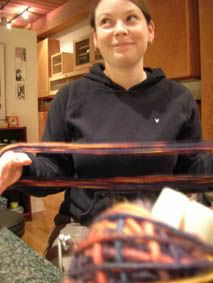 And then she taught me to cable! Okay you, the experienced knitter, may be like
Yeah, cables. So?
But
I
never knew how! With verbal explanation it never really made sense to me, and I always felt that the rest of you had this little one-up on me. But now I know! (And I've been telling everyone about my new talent - mostly non-knitters though, so I don't get much of a reaction.)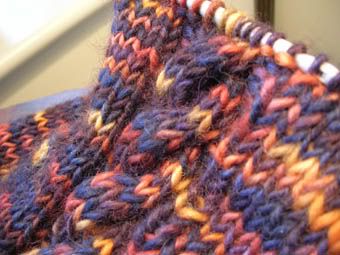 The cable gives me something to look forward to every round.
Hot water bottle cozies for everyone!