I've set my sights on some chunky wool
When I was in Italy I was seeing these big (yet feminine) cardigans that were fastened with a big pin. I wanted one.
And so, I was pleased to come across Jennifer Thurston's Blackberry on
Knitty
.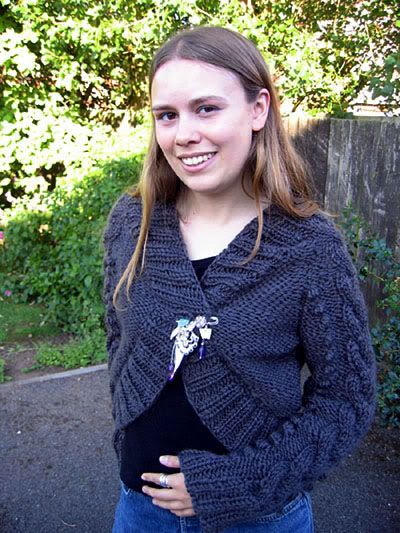 Okay, so I've never done cables or bobbles before, and I'm not a big fan of finishing, but it says in the intro "in a chunky yarn it knits up quickly"....
I like "quickly".
So yeah, about the yarn. You saw my stash the other day. You
know
I don't need any more yarn, but nothing that I have would fit for this project. Do I try and make something like
Lamb's Pride Burly Spun
work, or do I splurge on the
Rowan Chunky Print
?
And, the Chunky Print is 111 yds/100 g, but the Burly Spun is like 130 yds /226 g. They both knit on 9 mm/US13's, but they don't seem to match up in weight/yardage. Does this somehow make sense to any of you?