The Morning Kamut
What's a grrl to do when she's not allowed to eat sugar, wheat, dairy, oats or soy for at least the next six weeks? What if she's not too into savoury foods at breakfast?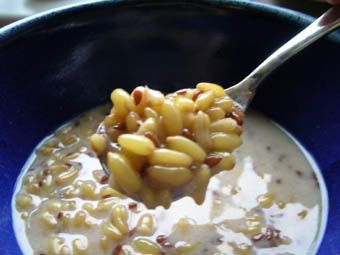 1/3 cup whole grain kamut
3/4 cup water
1/4 cup pear juice
1 tbsp. flax seeds (ground seeds are even better)
1/2 tsp. cinnamon
a pinch of sea salt
rice milk to taste (YU is the only Canadian and organic brand I know of without sugar)
If you think of it, put the kamut and the water in a small saucepan the night before - it'll cut down on the cooking time in the morning. In the morning, bring to a boil. Stir to ensure there's no sticking on the bottom of the pot. Add the juice, seeds, cinnamon and salt. Reduce heat to low (maybe medium-low depending on your stove) and cook covered for about 40 minutes - careful not to let the bottom burn - until kamut is
al dente
, but not crunchy. Scrape into a cereal bowl and pour as much milk over as desired. (I can't, but you could add raisins, molasses, barley malt, maple syrup or chopped fruit during the cooking or at the end.) Serves one.
If you're diet's a little less restricted, try this this cooked grain recipe that Mike sent me:
Mr. Breakfast
1/2 cup brown rice
1/4 cup quinoa or amaranth
1/4 cup wild rice
1 tbsp. honey or maple syrup
1/4 cup dried cranberries
a shake or two cinnamon (optional)
Cook the grains as you would, in about 2 cups of water. When the grains are done, stir in the honey, berries and cinnamon. This can be eaten hot or cold, so if you have to be in the mineshaft at 5:30 am, you can cook it the night before and bring it along.