So yer folks were right.
Maybe you come from one of those families where you were always told as a kid "Eat yer carrots! They're good for yer eyes!". I don't know if that's the kind of thing that my parents would have said, but I'm sure I heard it from other family members, or even my friends' parents. Anyhow, they were right. I can vouch for it, as someone who's in the thick of an anatomy & physiology class, that carrots have plenty of vitamin A which is an important part of your rods which give you nightvision!
This is a particularily good time of year to be eating carrots because you can still buy 'em locally grown. Ginger is nice and warming as we head into the colder weather. Oh and the sunflower seeds, along with making the soup a little creamy and giving it a nice flavour, add a little boost of protein.
Sunflower Ginger Carrot Soup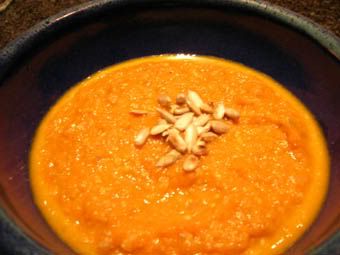 2 lbs. carrots, scrubbed (and peeled if not organic)
4 cups water
2 tsp. sea salt
1 tbsp. oil
1 large or 2 medium onions
2 large or 3 medium cloves garlic
2-3 tbsp. grated ginger root
1 tsp. cinnamon
1 tsp. ground cumin seeds
1/2 tsp. ground fennel seeds
1/4 tsp. allspice
1/2 cup ground toasted sunflower seeds*, plus some whole for garnish
3-4 tbsp. fresh lemon juice
1 tbsp. pure maple syrup (optional)
*
Raw organic sunflower seeds are pretty inexpensive (compared to, say, raw organic cashews, which you could use as a substitute is you were willing to spend the extra dough). Toast 'em yourself at home in a small skillet until fragrant and lightly brown on both sides. Grind with a (cleaned out) coffee grinder or a mortar and pestle.
1. Chop carrots into 1" chunks. Toss 'em in a soup pot, along with the water and half the salt. Cover, bring to a boil, and then turn down heat and allow to simmer until carrots are quite tender.
2. Meanwhile, warm oil over medium-high heat in a medium-sized skillet. Toss in spices and mix around for about 15 seconds before adding the onions. Saute onions for about 5 minutes before adding the garlic, ginger root and remaining salt. Saute for about 8-10 minutes more, until onions are very soft. Stir in ground sunflower seeds, lemon juice and maple syrup (if desired).
3. In an ideal kitchen you would have a handblender, because now would be a great time to use it. If not, a food processor or blender will do, just process in batches. Blend soup until relatively smooth (and there are no carrot chunks left). Non-handblender-users return the soup to the pot and warm for a few minutes more. Stir in a little more water (say 1/2 - 1 cup?) if you'd like a thinner consistency. Serve hot, with a sprinkling of sunflower seeds on top, and maybe some nice hearty toast on the side.
-adapted from one of my all-time favourites,
Moosewood Cookbook
by
Mollie Katzen
I'm not entirely sure about the flavour of this recipe. Try it, and please lemme know what you think, along with any adjustments you made.
PS. You may be interested - I just added a good handful of links to the "food related" section in the sidebar.