Three with parsley
I've only recently made friends with parsley. I was watching the Halifax-based indie movie
Parsley Days
- Kate's herbalist friend tells her that parsley's "a phenomenon, herbally speaking" - and I knew I'd have to get over the somewhat bitter taste. Not only has this humble herb been recognized for centuries as a breath freshener, but it's also a digestive aid, and has three times the vitamin C of oranges and twice the amount of iron in spinach. It also stimulates the uterus and is known as a herbal emmenogue (and should therefore not to be used in large quantities during pregnancy). Buy organic and use it fresh, not dried. Feel healthier for it.
Fettucini No-fredo
You want pasta with a rich alfredo-like sauce but without the dairy? No problem! I'm glad to say I've figured it out.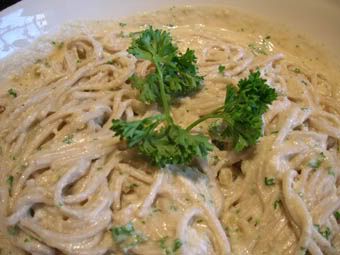 1/2 lb. package fettucini (or buckwheat/kamut/spelt soba noodles for the wheat-freebies)
3/4 cup pureed onion (about 1 small-medium onion)
3 cloves garlic. grated or pressed
1 tbsp. oil
1 1/2 cups soymilk (unsweetened pref.)
3/4 cup tahini
2 tsp. sea salt
fresh ground pepper to taste
1/4 cup finely chopped fresh parsley
2 tbsp. lemon juice
Put a large pot of water on to boil. Get started on sauce (see below), but add noodles and a few shakes of salt once water has come to a boil. Cook pasta until al dente, then drain and set aside.
In a large saucepan or skillet over medium-high heat, saute onion and garlic in oil for about 8 minutes, stirring often to prevent browning. Stir in soymilk, tahini, salt and pepper. Turn heat down a little cook for 5 minutes more. Add parsley and lemon juice and heat for just another minute.
Mix pasta into sauce just until everything is evenly distributed (I predict there'll be extra sauce). Serve hot, garnished with additional parsley. Serves 3 (or so).
If you have leftovers, drizzle on a little more soymilk when you're reheating.
Garlic bread
So simple, so tasty. Sometimes if I have a good loaf of bread around I'll prep it, wrap it in tin foil and freeze it. Then I'll pull it out and warm it up on a night when I'm making spaghetti or lasagna or sumpin'.
1 loaf fresh bread, sliced thick
about 4 large or 6 medium cloves garlic, crushed, grated or pureed
a few tbsp. margarine, or olive oil and sea salt to taste
sprinklings of minced fresh parsley or paprika (optional)
Combine garlic and margarine or oil - enough to coat each piece of bread. Sprinkle on paprika or parsley. Wrap in aluminum foil and bake at 375oF for 10 minutes or so - until it's heated all the way though (crispy crust and soft inside). Serve alongside an appropriate pasta dish.
White Bean Dip
This dip needs a better name. Got any ideas?
1 1/2 cups cooked or canned cannellini or navy beans
1 large or 2 medium cloves garlic
3 tbsp. olive oil
1 tsp. sea salt
fresh ground pepper, to taste
1/4 cup chopped fresh parsley
1/2 tsp. dried dill (optional)
Toss all ingredients into a food processor and give it a whirl. Stop, and scrape down the sides with a rubber spatula. Give it another whirl until smooth - you could add a tablespoon or two of water if need be. Serve with raw veggies, crackers, or as a spread on rice cakes or in a sandwich.
I made this dip with the little one last week. (It's a good one to make with a culinarily-enthusiastic kid since it's mostly just dumping things in a food processor.) As we were standing at the kitchen counter together (she was on a stepstool) she explained to me very matter-of-factly: "I gonna peel dese garlic naked." I love the way 2 and three-quarter year-olds explain things.

These three recipes will all be printed in my soon-to-be-published cookzine
Ripe #4
. It should be out by the end of the month!