Warm and cozy
I finished the hot water bottle cozy.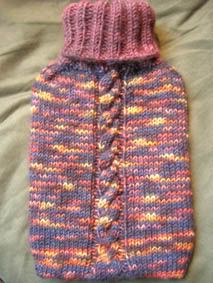 The deets:
Pattern:
Hottie Cozy
from
Yarn-a-Gogo
/ the someday-soon-to-be-released
Take Back the Knit #3
Yarn:
Manos del Uruguay
(100g, 138 yards), colourways #111 & #53
Needles:
Denise
size US8, and whatever crochet hook I had around
Timing:
October 15-22 2005
Notes:
-This was my first time cabling. Wheee! I used a DPN in lieu of a cable needle, except for one time when I was on the streetcar, realized I'd left my DPN at home and just let the stitches hang precariously in the back. Is that what the cabling without a needle technique is, or is there more to it? I was [pretty worried about dropping stitches.
-I did 5 rounds between the cabling rounds and I think the pattern calls for four.
-The pattern called for Lamb's Pride Worsted, but I was drawn to the Manos in my stash. I knew one skein wouldn't be enough, what with the shorter yardage, so I used a different colour (the end of a skein from a scarf I made for my mum) for the turtleneck. Then I miscalculated and ran out of the second colour half way through my bind off row, so I kept binding off with the first colour and then crocheted a border around the top and hoped that no one would notice.
-I started with size 7 needles, but it was too tight. I checked the revised version of the pattern and discovered that
Rachael
recommends large needles for those who aren't as, er, loose as she is.
- I really enjoyed this pattern. I plan to make more!