Beware of Monotone Dinners
Coconut-Cashew-Sesame Cauliflower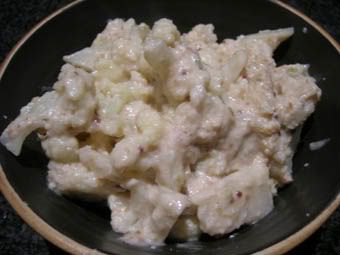 When I moved this fall, I stole a Madhur Jaffrey cookbook that'd been in my mum's house for, like, two decades.

I've been on a big of a cauliflower kick recently, so I was excited to try out this recipe. (Note: I've made a couple adaptations.) You may be interested to know that cauliflower is considered good brain food. It's easier to digest than broccoli, though it contains lower amounts of vitamins, minerals and chlorophyll.
1 medium head (2 1/2 - 3 lbs.) cauliflower
1/2 cup unsweetened grated coconut (fresh coconut pref, through not crucial)
2 tbsp. raw sesame seeds
1/2 cup raw cashews
2 cups water
1/4 cup oil (organic unrefined coconut oil pref.)
1-2 fresh hot green chili(s), sliced into thin rounds (or 1/4 - 1/2 tsp. cayenne)
2 tbsp. black mustard seeds
2 tsp. sea salt
1 tsp. sugar or honey (optional)
2 tbsp. lemon juice
Wash, and cut cauliflower in such a way that piece's aren't more than 1" x 2" big. As long as it's tender, the stalk may be peeled and sliced into wider-than-matchstick-sized pieces.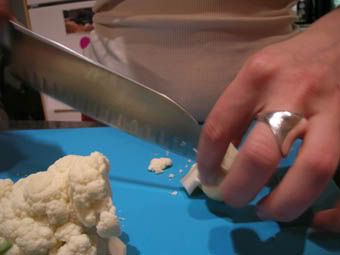 Toss coconut into a small cast-iron skillet over medium heat. Toast unitl lightly browned, then empty into a bowl (pay pretty close attention as I didn't and burnt a first batch of coconut). In the same skillet, do the same for the sesame seeds, then the cashews. Empty contents of bowl into a blender or food processor. Add 1 cup water, the green chili, salt, sugar or honey (if desired) and lemon juice. Give it a whirl until smooth.
In a large heavy skillet, heat oil over medium-high flame. When very hot, add the mustard seeds. They should begin to pop almost right away. Once they do, stir the cauliflower around on medium heat for 3-4 minutes. Pour in the blended mixture, plus the other cup of water. Stir to mix. Bring to a boil and then cover. Lower heat a simmer for about 10 minutes, stiring occasionally to prevent sticking, until cauliflower is
al dente
.
Serves 3 or so as a main dish (I had mine with millet, hence the very white meal), though it's so rich that I'd serve it as a side along with other veg dishes (maybe curried potatoes or eggplant, dal, something spianchy) and rice.
Dal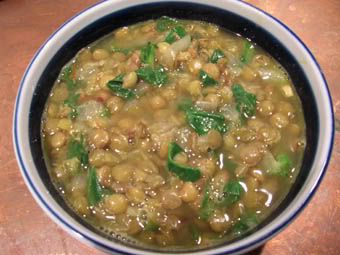 This soup is warming and filling - and a great source of protein!
1 1/2 cups dry red or green lentils*
4 cups water
2 dried chiles, whole
1/2 tsp. turmeric
1 tsp. sea salt
3 tbsp. oil
1 tsp. cumin seeds
1 medium onion, chopped
2 cloves garlic, minced
1 tbsp. grated ginger (or an additional clove of garlic)
1 cup chopped tomato (optional)
4 cups chopped spinach (optional)
1 tsp. garam masala
2 tsp. lemon juice
*I'm sure you'll notice that green lentils hold their shape more, while red lentils will made more of a paste/smooth texture.
1. Wash lentils in several changes of cold water. In a medium pot, cover them with 4 cups of the water and add the chile, turmeric and salt. Bring to a boil, reduce heat and simmer, stirring often, until tender (about 30 minutes).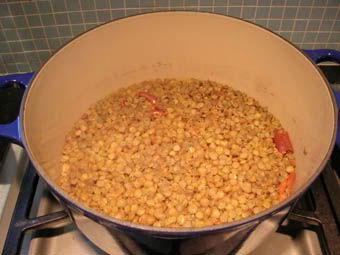 It may be necessary to add another cup of water, adjust to desired consistency.
2. When lentils are almost cooked, heat oil in a small pan, add cumin seeds and cook for about 15 seconds before stirring in onions and garlic.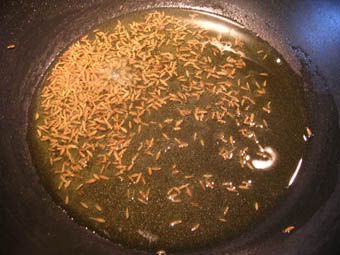 Cook until onions begin to brown - about 5 minutes - and then add tomatoes and/or spinach and cook another 5 minutes. (As you can see I only added spinach).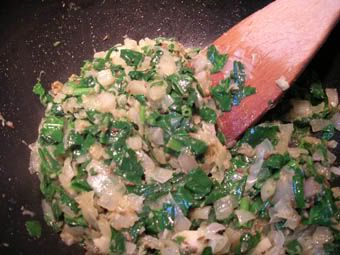 3. When lentils are tender, remove and discard the hot pepper. Stir in the onion mixture, lemon juice, garam masala and salt to taste.
-adapted from
Sundays at Moosewood Restaurant