Mail-order brownies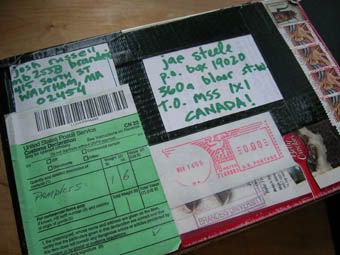 I got a package in the mail yesterday...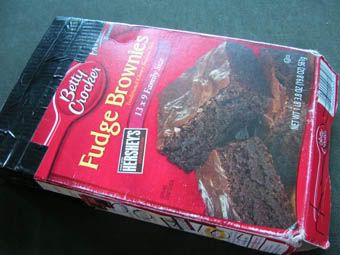 A seemingly unlikely box to send something in, but not from Josh, the great guy who made that super zine that I distro,
Zen and the Art of Brownie Baking
.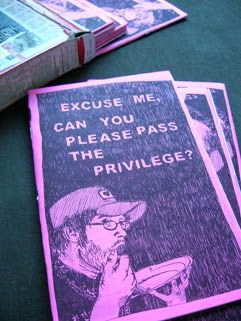 He's sent me this smart new zine on the way he sees the privilege he carries around in the world. It's called
Excuse me, can you please pass the privilege?
and you can order it
here
.
An so, to celebrate. I thought I'd post this recipe from
Ripe #3
, even though the lack of chocolate in my life is torturing me (you enjoy this for both of us).
Zen Brownies
I got really excited about brownies after reading Josh's zine Zen and the Art of Brownie Baking. This kid is really into brownies. I'm talkin' HARDCORE. Josh explains that he makes them about three times a week, which in my mind qualifies him as an expert. He parallels brownies to punk rock, writes about brownies as part of the revolution, the brownie revolution, ethics in regards to eggs... He's a brownie purist (no bells and whistles in his 8" x 8" baking pan, thank you very much) and when it comes to texture says this: "Brownies should be fudgy, not cakelike. If you want cakelike brownies, eat some fucking cake."
Hell yeah.
Like I said, inspired by his zine, I worked out this recipe.
1 cups flour
1 cup dry sweetener
1/2 cup cocoa (Dutch-process prefered)
1 tsp. baking powder
1 tsp. baking soda
1/4 tsp. sea salt
1/2 cup apple sauce
or
blended silken tofu
1 cup organic (non-dairy) milk
1/4 cup oil
3/4 cup chocolate chips, melted
1 heaping tbsp. instant coffee (optional)
1 tsp. vanilla extract
Preheat oven to 350oF. In a large bowl, combine the flour, sweetener, cocoa, baking powder and soda, and salt. Add the tofu or applesauce, milk, oil, coffee, chocolate and vanilla, and stir just until all of the flour is absorbed.
Pour into a lightly oiled and floured cake pan, and bake for about 30 minutes. Okay wait - if you're going to be "serving" them you may want to oil and cocoa the pan so they don't look white from flour on the bottom, Also, Josh says to use an 8" x 8" baking pan. My brownies bubbled over and then sunk down nicely into the pan. Either put a cookie tray under it to save the hassle of cleaning the bottom of the oven, or use a slightly larger pan. Check with a skewer for doneness. These babies are so fudgey they don't really hold together when warm. Add an extra 1/4 cup flour if you want a more stable consistency.
* You could also make bite-sized brownies by baking them in mini muffin cups. Just reduce the baking time, and don't fill the cups with too much batter.