Meme-me-me-me-meee --
Because my computer has been somewhat incompatible with
Allison's blog
recently (if takes forever to upload the page - it's the weirdest thing), I don't get over there as often as I'd like. Which
means
that I only just discovered that I'd been tagged with a meme. Which is fine by me as, contrary to a number of other knitbloggers, I secretly love them. And so I present to you
20 Things About Me
:
1. I was born right here in Toronto on a late-September morning 25 years ago.
2. I have a bit of a complex about living here again - as if truly growing up is about moving far away from your home town (well in this case, city of 2.5 million). I fantasize about living in Montreal all the time.
3. I have six parents: My mum and
her partner
(they've been together since I was 3), my dad and his wife (they've been together since I was 5)... and my mum and her partner's best friends who have been around for a lot in my life and we celebrate eveything with them and their daughter (Christmas, Channukah, Passover, Easter, birthdays...).
This is a bit of a contentious issue with certain family members, but I don't have the strongest ties to my extended biological family so I say if there's love, the more family the better.
4. I have two brothers who are 14 and 10. Technically they are "half-brothers" (they're my dad and step-mum's kids) but I've never been a fan of the "half" appendage. They are soccer stars and rock stars and I love 'em both like crazy, although I try not to let on like I do (they're at that age).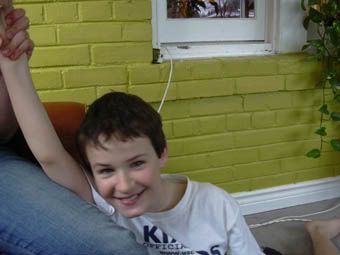 5. Being at my baby brother's birth is what made me realize, at the age of 14, that midwifery was my life's calling.
6. I dropped out of school for a while in eleventh grade. I was travelling a long way to attend
an arts school
as a Music Theatre major, and singing and dancing just didn't seem to click with my plan to catch babies. I transfered to
an alternative school
and the experience I had there really raised my consciousness about the world to a whole other level.
7. I focused so much on midwifery between the ages of 14 and 18 that I was the first person to ever get into the
McMaster Midwifery Education Programme
straight out of high school.
8. Being a midwifery student was too much for my 19 year-old self and I had to drop out of the programme. That was a hard decision to make.
9. 19 was also the age that I learned to ride a bike. My friend Adrienne taught me on her little brother's bike on a dead-end street. There was a four year-old on a bike with trainning wheels watching us like we were nuts. (My mum
tried
to teach me when I was younger, but I just wouldn't do it.)
10. I think bike riding is hot. (Okay, well not if you're wearing all sorts of sporty cyclist gear - that's not bike riding, that's cycling.)
11. I am not athletically-oriented by any means. I was on the girls' soccer team in sixth grade, but I think the coach only let me on because he knew how proud my dad would be of me.
12. In high school, my friends Adrienne and Laura and I started up a feminist health collective called PussyWillow. We visited schools and commnutiy groups doing workshops on menstruation and the dangers of mainstream menstrual products. We sold beautiful handmade reusable cloth pads for real cheap. That's when I started making zines - the first ones being on menstrual and sexual health.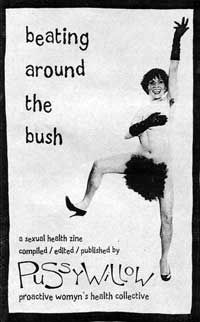 13. I do childcare for a living. Not babysitting (which is for 14 year-olds), but
childcare
. I am seroiusly bothered by the fact that childcare does not get enough respect in this capitalistically-driven culture of ours.
14. The summer of 2002 my friend Roco and I did a tour of
Intentional Communities
, mostly on the west coast and along the northern part of the US/Canada border (on the US side). We hitched around for 5 weeks visiting farms, co-ops, communes, and other co-housing situations to see community in action. Everyone was very generous to us.
15. In January 2003 I moved into an intentional community in Peterborough called
Big Cedar
. It was a very important experience for me to live there (what with communal dinners, weekly meditations, three-hour house meetings and running a natural foods buying club out of our house...), if only for a year, and I consider the folks there to be my chosen family.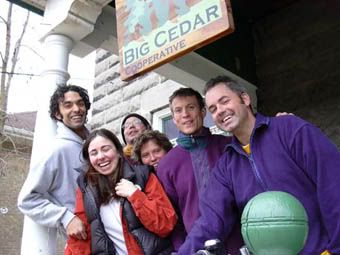 16. I started throwing pots four years ago. You know, like ceramics, making pottery on a wheel.
17. I became vegan five years ago when I was living on
an organic herb farm
in Nova Scotia. It wasn't because of the animal rights so much as because I fell in love with someone who was vegan. He took off for California pretty quickly, but the food-consciousness seems to have stuck.
18. I devour cookbooks like trashy romance novels. I have close to 50 of them. I would even stoop so low as to buy them off
Chapters.Indigo.ca
(which is horrible since we should all be supporting our local independent booksellers - I know, I used to work for
one
) because they're 33% cheaper online and I just keep craving more.
19. I'm not vegan anymore. I consider myself an ethical whole-foods vegetarian but I still say I'm vegan a lot of the time because it's easier to explain.
20. I am writing a cookbook. I've come up with around 150 recipes so far. Maybe 200.
21. I sat a 10-day
Vipassana Meditation
intensive in Sutton Quebec last fall. Ten days of meditation for ten hours a day. No talking, no reading, no writing, no getting down with yourself, and no eye-contact. I'm pretty sure the experience saved my life.
Damn! I miscounted - 21! (Who likes round numbers, anyway?)
More than you ever thought you'd know, hey?!
And now to tag - I pass this meme on to
Jill
,
Kelli Ann
and
Missy
- who all seem like good sports, and none of whom I believe have had this already.