Participaction*
I've come to notice this year that in the knit-blogging world there is a substantial, and lovely, element of encouragement and motivation. And so today I've decided to post about something that's not knit-related and it's not even about food, but that I need to feel motivated about if it's going to become a regular activity - getting fit.
Somewhere between Laura's
Health Group
and Jodi's
Self-Portrait Tuesdays
, I bring you Superfit Saturdays (or maybe just Sweaty Saturdays). I'll talk about getting up off my arse, and why it's important to sweat.
I visited
my naturopath
last night and discovered that in the 4 1/2 weeks that I've been off wheat, sugar, dairy and the rest, I haven't lost a single pound! Whaaa! What am I doing this for then?! Health... right. But I'd also like to feel a little more comfortable in my 5'4" frame. (I'm not saying I think I'm huge, I'd just like to have a little less of a belly and feel more comfortable with my physical presence.) And I want to do it without some scary eating disorder mentality. So my doctor said exercise. Just twice a week, just 20 minutes. But I have to sweat.
Bike season may be coming to an end. (It was cut short at least for me last week when my front tire hit the streetcar track and I went flying, landing halfway under a parked car, with honourable road rash to show for it despite the autumn layers I was wearing).
But it shouldn't be that hard. It's not like the Y membership I had for the past 10 months and only used 3 times. There's a workout room right in my building that's free to use. I just have to put on some sneakers and take the elevator up 4 flights (I'm kidding, of course I'm taking the stairs).
Here was my workout this morning: bike 5 minutes, stretch, bike 15 minutes, rowing machine 5 minutes, a few reps with 5 lb. weights, 36 ab crunches.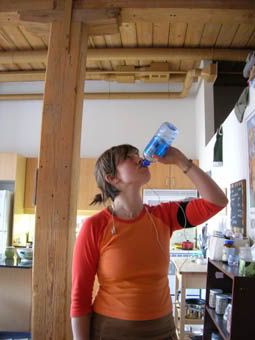 (Are you noticing the high ceilings and great light in my apartment? More on that another day.)
Then shower.
I feel better for it.
Here's hoping my trip up there wasn't just a sophisticated version of procrastination what with Monday's Anatomy and Physiology exam I have to study for.
*
ParticipACTION was this Canadian government initiative to get the public moving. They'd have these little educational commercials on TV in the 80s and 90s called Body Break with hosts by Hal Johnson and Joanne McLoud (who I always believed were a couple). The ads would always end with "Until next time... stay fit, and have fun!" (It's a little hard to convey the hokeyness of the ads if you never saw them.)