Real simple
It's good to throw some simple meals into your dinner rotation. Consuming simpler foods and chewing well means that your body can spend less energy on digestion and put more energy towards assimilation (getting nutrients) and elimination (getting rid of what it doesn't want). According to proper food combining you should have meals that are starch + veg OR protein + veg, but don't fret about that too much. Just enjoy the wholesome goodness.
Steamed Veg with Tahini Dressing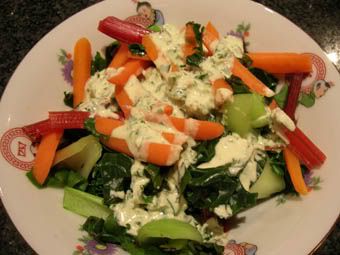 Choose some of the vegetables you like steamed or try something you don't normally eat. I'm thinkin maybe red chard, baby bok choy, carrots... ideally they'd be organic and locally grown. Wash 'em, chop 'em to an appropriate size, and steam 'em but not for too long, they should still be a bit
al dente
.
The Dressing
2/3 cup filtered water
1/2 cup tahini
1/2 cup minced fresh parsley
2 cloves garlic
2 tbsp. lemon juice
1/2 tsp. sea salt
All ingredients should preferably be organic and raw. Chuck all ingredients into a food processor or blender and give 'em a good whirl.
Serve over the steamed veg. (This would be an especially good dinner if you'd packed in the grains earlier in the day, or you could serve it over a cooked whole grain of choice - millet, quinoa, brown rice...)
Green-Grain-Seed Bowl
organic green or black kale, or swiss chard, washed and chopped
cooked millet, quinoa, brown rice or another grain
raw sunflower seeds
tamari soy sauce
flaxseed oil*
nutritional yeast (optional)
Put greens in a steamer basket in a sauce pan with an inch or so of water at the bottom (be sure the veg ain't touching the water or you'll lose more nutrients), cover and steam till
al dente
.
Toast the sunflower seeds yerself in a small skillet for a few minutes, or better yet, keep 'em raw.
Pile it up in a bowl - cooked grains, steamed greens, a little handful of seeds. Drizzle on tamari and flaxseed oil to taste, and shake on some nutritional yeast if you like.
* Flaxseed oil (great for Omega-3/essential fatty acids) should always be refrigerated, and don't ever cook with it. It goes rancid about six weeks after opening (it'll smell/taste like paint), so don't buy a big bottle unless it's for a lot of people, and use it often!