Sooo goood.
I can't get enough of this dish... Here's Andrew to give you the lowdown.
Butternut Risotto
Who knew that vegan brown rice risotto could be so rich and delicious? The brown rice takes longer to cook than traditional arborio white rice, so we needed to use a lid and give it more time than common risotto. But using a bit of vegan margarine and soymilk with the smooth, roasted squash helps to give a similar creamy deliciousness you've gotta love. You could even roast the squash and garlic a day in advance if you happened to have the oven hot.
Step 1: Roasted squash
(time: about 45 minutes)
1 small butternut squash, halved, seeded
1 whole head garlic, a tiny bit of the top sliced off
olive oil
Preheat oven to 375oF.
Slice butternut squash in half. Scrape out the seeds.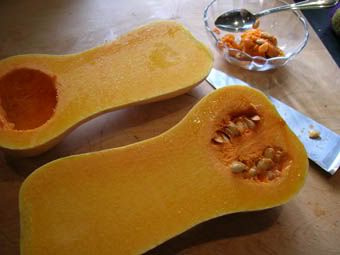 Lube up squash with olive oil, season with salt and pepper if desired, place face down on baking sheet (use parchment or foil if you want less baking sheet clean-up later).
Drizzle some olive oil into the head of garlic and place beside squash to roast.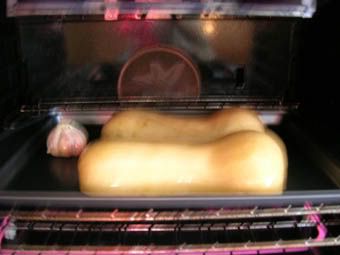 Bake for about 30 minutes before turning squash face-up. Remove the head of garlic. When cool enough to handle, peel the garlic.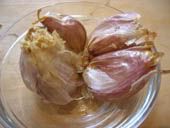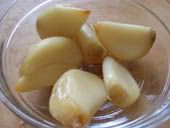 Mash it in a little bowl with the back of a fork. Set aside.
Bake squash about 15-20 minutes more until it's tender throughout (poke with a knife or fork). When cool enough to handle, scoop the squash out from the skins and mash smooth in a bowl for later.
Step 2: The Risotto
(about 40 minutes)
1-2 tbsp. olive oil
1 medium onion, diced
1 1/2 cups sweet brown rice*
4 cups vegetable broth (we used
Imagine Organic No-Chicken Broth
)
1/4 - 1/2 cup organic non-dairy milk (unsweetened soymilk pref. - I like Natura)
1 1/2 - 2 cups roasted butternut squash (see above)
1 head's worth of roasted garlic cloves (about 6 large cloves), mashed (see above)
1 tsp. thyme
sea salt (try 1/2 - 1 tsp.) and freshly ground pepper, to taste
1/3 cup chopped fresh parsley (flat-leaf pref.)
1-2 tbsp. non-dairy, non-hydrogenated margarine (we used
Earth Balance
non-GMO Natural Buttery Spread)
* It's important to use sweet brown rice over other brown rices as this one's had it's husk removed and will therefore cook faster and produce a creamier dish.
Keep vegetable broth hot in a small saucepan on a back burner.
Sweat onions gently in some olive oil in a heavy-bottomed saucepan or medium skillet on medium-low heat, taking care not to brown them, until translucent. Add rice, and toast for several minutes.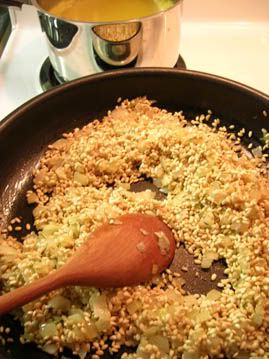 Now turn up the heat to medium-high and add the first couple ladles of hot broth, until the rice is just covered. Adjust heat so that you're only ever simmering, not boiling. Gently stir every minute or so.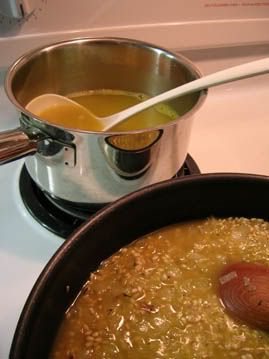 Add another ladle every few minutes, so that there's always just enough broth to caress and cook the rice.
When you're about half-way through the broth, add some extra broth and put a lid on it, turning the heat down to low. Steam the rice like this for 15-25 minutes, until the rice is close to done. Now turn the heat back up a bit, add soy milk, and let most of the liquid simmer off (you don't want it runny), then turn heat to low again.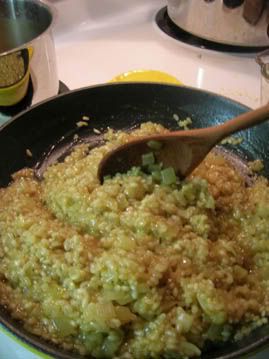 Fold in the roasted garlic and squash (The suggested amounts are flexible - you may want more, or you may end up with extra of both!)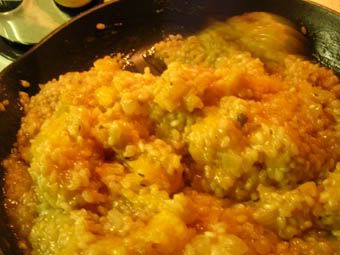 Season with salt and pepper and thyme (careful, the broth may be salty already). Stir in the parsley and the margarine.
Take off heat, add lid, and let it stand for 5 minutes to allow maximum tastification.