Sweaty Saturdays, week 2
So it wasn't just a one-off. Here's what I did this week:
Tuesday morning:
up 4 flights of stairs, 5 minutes bike, stretch, 16.5 minutes bike, 5 minutes rowing machine, 5 lb. & 12 lb. weights, ab crunches - 7 reps of 12, stretch, down 4 flights of stairs.
I found I had all this energy that night and ran/sped-walked to the video store (a distance of about 3 subway stops away) and back.
Friday evening:
up 4 flights of stairs, 5 minutes bike, stretch, 15 minutes bike, 5 minutes rowing machine, ab crunches - 4 reps of 12, stretch, down 6 flights of stairs.
When the
Bell Orchestre
show ended at 12:45am, I sped-walked home from the Music Gallery and beat the streetcar I'd been originally planning to catch.
I am finding already that I can see more times in a day where I could exercise. There were a couple times this week that it came to mind and I shoulda just done it before I got lazy/distracted. I hope this coming week I make it to a yoga class too.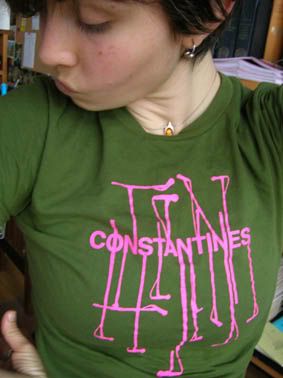 Why you've gotta sweat:
We sweat to maintain homeostasis - in this case, a balanced temperature in our bodies. When it's hot out (in the external environment), we sweat. When our body's hot (from nerves, exercise, whathaveyou), we sweat. But sweating is also important for detoxification. Just like pee, sweat contains nitrogenous waste - stuff your liver has decided it doesn't want.
Which is why you're not doing yerself any favours by slathering on that anti-perspirant you picked up at the drug store. You're keeping those toxins in with more toxins (chemicals like
aluminum trichloride
and parabens*). If you want deodorant, take a trip to the health food store and experiment with some'a those products. I like ones with tea tree, lavender and lichen plant. (If you're an excessive sweat-er, sage can be taken internally - but that's a bit of a different story.)
And, of course, shower! Once you've let those toxins go, you wanna get them off yer skin, too.
Note: I am no expert on detoxing - this is just information I've picked up from reading and school, etc. I encourage you to do further research.

* There was a good article on deodorants in October's Alive Magazine, this article on the other hand seems to show Proctor & Gamble using the FDA as their mouthpiece.