World Tour
Andrew left yesterday for Hong Kong. He's meeting his brother there and then they're heading down to Australia for a poker tournament and some travelling. It's a three-month trip and they've got
a blog
, but it seems to me like one of those blogs that's really just for your family and friends, like one big inside joke.
So how do I appropriately Christmas-gift a boy who's about to take off to a warmer climate? I'm no slouch - my kitchen's been one of the last stops for many an ex-boyfriend/grrlfriend before they hop on a plane for an international tour (of course in the past they've always been heading off to play in a rock band or do some organic farming, not hitting casinos).
I make travelling food.
World Tour Granola Bars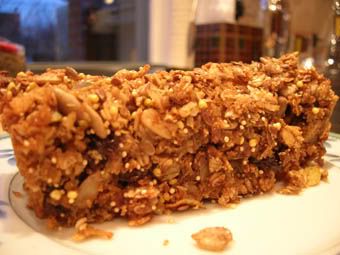 1 cup dried fruit (choppped and pitted dates, raisins, dried unsulphured apricots, dried cranberries, unsweetened shredded coconut, etc.)
1/4 cup apple juice, (non-dairy) organic milk or filtered water
2 cups rolled grains (oats, kamut, rye)
1/4 cup hulled millet and/or amaranth
1 cup raw seeds (flax, sunflower, pumpkin, poppy, sesame) or chopped nuts
2 tsp. cinnamon
1/2 tsp. sea salt
1/4 cup honey, maple syrup, or agave nectar (if using brown rice syrup or barley malt, bump it up to 1/3 cup)
1 tbsp. blackstrap molasses
2 tbsp. nut or seed butter (non-hydrogenated peanut, almond, tahini)
2 tbsp. oil (unrefined/non-hydrogenated organic coconut oil or olive oil), plus a bit more for greasing the pan
1/2 cup applesauce
or
2 organic free-range eggs (if you use eggs, you gotta promise me they're not from a factory farm - I mean it!)
Preheat oven to 350oF.
In a small bowl, soak dried fruit in the juice (or milk or water).
In a large bowl, combine the rolled grains, millet, seeds (I like a combination of a few different kinds), cinnamon and salt. Add the honey, molasses, nut butter and oil, plus the contents of the small bowl (fruit with soaking liquid). Mix just until well combined.
Lightly oil a 8" x 8" baking pan, spread mixture in evenly and bake for 30 minutes, until golden and slightly crispy. Remove from oven, cut into 10 rectangles. Once cool, store in an air-tight container for up to a week.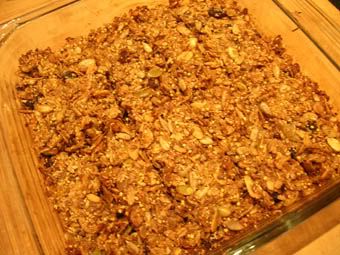 -adapted from
this recipe
by Rebecca Wood