Back on track
Today's the day for the return of knitting content!
It took braving yesterday's day-after-boxing-day-25%-off-everything sale at
Romni
to do it. (Yes, I know I should have gone the extra distance to
my favourite yarn store and yours
, but I had about five skeins-worth of credit note at Romni.)
I present to you the class of 2006: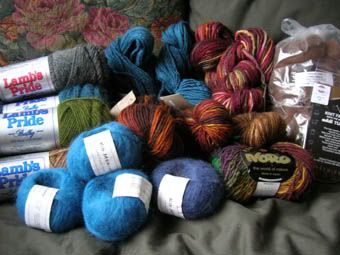 From left to right: Lamb's Pride, both worsted and bulky, in various colours; Crystal Palace Kid Merino (the poor grrl's version of Rowan Kid Silk Haze at $6.80/ball instead of $23 - but who're we kidding? it's nowhere near as nice); Manos del Uruguay, in both solids and varigates; a Noro Kureyon; Louet brown alpaca roving (ha! it's not for spinning silly, don't you think I've got enough on my plate?, it's for thrums); and finally, some 12" Addis (the day
Denise
makes 12 inches possible will be a joyful one indeed, but until then, I've got to compromise).
Smooshing them all them all together in one little shot makes it look like not a lot of wool, but you see there's a lot of wool there, right?
Not completely exhausted from post-Christmas sale chaos, I continued east along Queen Street West in search of some winter boots. Last winter I learned that it's not worth waiting for the sales when it comes to winter coat shopping, and this year I'm learning the same holds true for boots - there's nothing out there for my common-lengthed-though-a-little-wider-than-I'd-like foot this late in the season. (Last year I bought these really hot boots that were a little too narrow I guess because they permanently fucked up my feet, not to mention I couldn't keep the salt stains off 'em for anything - and yes, I've tried vinegar and water.)
So I finally returned to the trusty
Blundstone
store to get a pair of brown boots (this'd be the time to mention that my three-year-old black Blundstones hardly look a day over a year and a half, and although they are not always the hottest grrl footwear option they are arguably the best quality, sensible footwear you'll find for about $150 - not to mention all the midwives are wearing them). And that's where I ran into
Amy Singer
, who was very friendly, and though she didn't even ask when the next issue of
Take Back the Knit
was coming out, I blurted out almost immediately that I was having guilt about the long delay in publication.
Inspired by all the new fibre that won't even fit in
my fibre chest
, and trying to distract myslef from the guilt of a substantially lighter wallet, I started in on a new herringbone scarf for myself.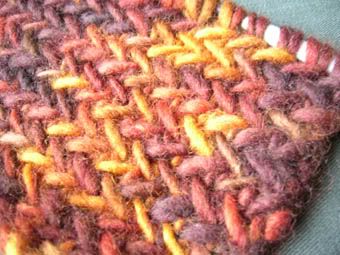 Gawd I love this stitch.
So far this season I've been sporting
the one
I made last March, but the colours weren't really working with my coat (not that anything
doesn't
go with beige, but as a fellow knitter you understand that my rationalization for knitting a new garment doesn't need to be logical).
This morning Anna, my elementary school friend and
Ripe #4
cover grrl, is coming for
buckwheat and millet waffles
so I better shake a leg!