Golden
Curried Golden Split Pea Soup
Warming, both visually and in taste, this soup makes a lovely meal - especially at this time of year. What follows is slightly adapted from
The Angelica Home Kitchen
by Leslie McEachern.
First, make the curry spice mix (you'll have lots left over but that's a good thing because it's really delicious):
1/4 cup coriander seeds
1 tbsp. cumin seeds
1 1/2 tbsp. black peppercorns
1 2-inch long piece cinnamon stick, broken into pieces
1 tsp. cardamom pods
1 tsp. fenugreek seeds
2 tbsp. ground turmeric
1 tbsp. ground ginger
Put the coriander seeds, cumin seeds, black peppercorns, cinnamon stick, cardamom pods and fenugreek seeds in a dry 8-inch skillet.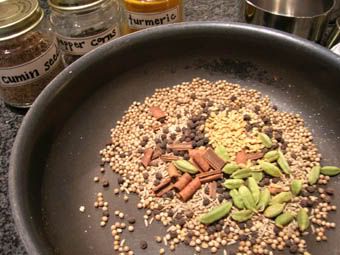 Over medium heat, toast the spices for about 3 minutes, stirring and shaking the pan all the while. Set aside and allow to cool.
Grind the spices to a fine powder in a clean coffee grinder or mortar and pestle. Pour into a bowl and mix in the turmeric and ginger.
Store in an airtight container.
Now the soup:
7-8 cups water or vegetable stock*
1 1/2 cups yellow split peas, rinsed
1 3-inch piece dried kombu**
2 tbsp. oil (unrefined organic coconut or olive oil)
2 medium onions, diced (about 2 cups)
3 medium carrots, diced (about 1 1/2 cups)
1/2 cup diced fennel bulb (or celery - about 1 rib)
1 tbsp. homemade curry powder (as explained above)
1/4 tsp. cayenne (if you want some extra heat)
2 tsp. sea salt, or more to taste
fresh chopped cilantro or parsley, for garnish
* If you're going to be eating the soup right after you make it, use 7 cups of water. It thickens as it cools, so if you're making it for later on, use 8 cups.
** Kombu's a great sea vegetable that, when added to legumes, makes them more digestible and adds minerals. Find it at your health food store or an Asian market.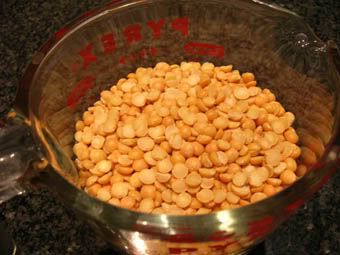 Put the water or stock, peas and kombu in a large soup pot. Bring to a boil over high heat. Reduce heat and cover. Simmer gently for about an hour, until the peas have turned to mush.
While the peas are cooking, grab a medium-sized skillet and put on the stove over medium heat. Pour in the oil and add the onions. Then throw in the carrots, fennel (or celery), spices and salt.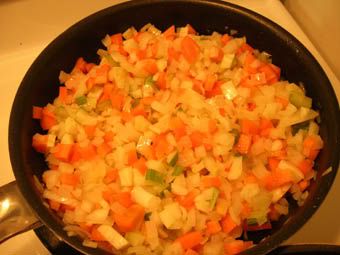 Saute for 5 minutes, and stir to prevent sticking. Lower the heat, cover the skillet and sweat for an additional 12 minutes.
Scrape the contents of the pan into the soup pot. Pour a wee bit of water into the skillet and swoosh it around before pouring that into the pot too (you don't wanna be losing any of those spices).
Simmer for another 8 minutes, adjusting seasonings to taste.
Serve sprinkled with cilantro or parsley.
Enjoy.