Pink Pearls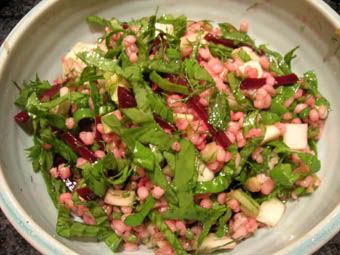 Barley, Fennel, Spinach and Beet Salad with Pine Nuts
Andrew made this salad for us the other night. Not only is it satistfying to eat, but it's wonderfully festive looking. Here's a slight adaptation from a recipe by Rebecca Wood, from her book
The Splendid Grain
.
1 cup cooked pearl barley
2-3 tbsp. fresh lemon juice
2 tbsp. cold-pressed olive oil
sea salt and freshly ground black pepper, to taste
1 cup finely diced fennel bulb
1/2 cup steamed julienned beets
1 cup schiffonade (thinly sliced) spinach
3 tbsp. lightly toasted pine nuts
If you've just cooked the barley (start with 1/2 barley and 1 1/4 cups filtered water and a pinch of sea salt - you'll have a bit left over), smooth it out in a medium-sized bowl to allow it to cool a bit.
In a small bowl, whisk the lemon juice, olive oil, salt and pepper. Pour over the barley, add the fennel and allow to stand at room temperature for 30 minutes to two hours.
Add the beets, spianch and pine nuts and gently toss. Serve immediately.