Sweetness and Spice
Okay, so it seems I can't excite you with barley and beets, but how about some tasty sweet treats? (And as I have no knitting to speak of.)
A mid-December Sundae is the time that my mum hosts her annual Cookie Exchange Party. It's been a dozen or so years that she's been throwing this party now, and it's always a key reminder for me that Christmas is fast approaching.
The way the party works is this: everyone brings two tins of cookies - one to eat and one to share. You show up, lay out all your cookies on the table with everyone else's, spend a few hours stuffing your face and mingling amongst a couple dozen middle-aged feminists, and then you load up one of your tins with other people's cookies and head home.
My mum and her partener, David, go all out for the event - Date-filled Rosewater Shortbread (pictured here), Chocolate-dipped Hazelnut Cookies, Mincetarts with Hardsauce, Scones with Whipped Cream and Jam, Mulled Cider...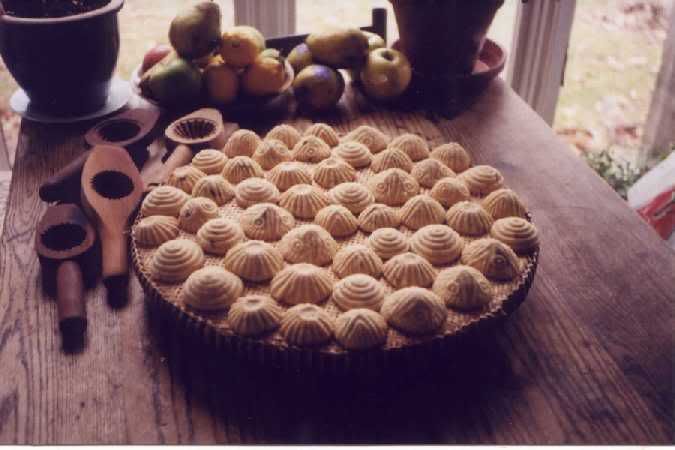 ...but here are the kinds of treats I like to make.
Hairy Ginger Cookies
There's not really hair in these cookies - if there was, they wouldn't be vegan! The use of fresh ginger root instead of the powdered stuff leaves cookies with these little stringy bits. Just make 'em - you'll see.
2 2/3 cups flour (plus possibly a couple more tablespoons)
1 tsp. baking powder
1 tsp. baking soda
1/2 tsp. sea salt
2/3 cup maple syrup
1/3 cup blackstrap molasses
1/2 cup oil
1/3 cup fresh grated gingerroot
organic sugar to roll cookies in
Preheat oven to 350oF. In a large bowl, whisk together flour, baking powder and soda, and salt. Add maple syrup, molasses and oil. Take the grated gingerroot in your hands and squeeze some of juice out into the bowl before tossing in the pulp (this allows for better distribution of gingery flavour). Mix just until all the flour has been absorbed.
Roll dough in to little balls (if they're too sticky add a little more flour) and roll 'em around in a bowl of sugar before placing them on an oiled cookie sheet. Bake for 10 to 12 minutes. Makes about 3 dozen smallish cookies.
Variation for ginger snaps or ginger bread people:
Reduce amount of baking soda to 1/2 tsp.
Roll out dough onto a floured surface and use cookie cutters (people) or the rim of a glass (snaps). The cookies will be thinner though, so you'll have to keep a closer watch on then in the oven and reduce baking time by a couple minutes.
Stevia n' Spice Cookies
Like
I
was gonna go without cookies this holiday! These babies are wheat-, dairy-, egg- and sugar-free - perfect for kids, diabetics, candida-sufferers or anyone who just wants a healthier dessert option. I just worked this recipe out yesterday - lemme know if you experiment with it at all.
2 cups spelt flour
3/4 cup rye flour
7 packets of
SweetLeaf Stevia Plus
*
2-3 tbsp. raw flax, sesame or poppy seeds
1 tbsp. ground cinnamon
2 tsp. ground cardamom
1 tsp. ground ginger
1/2 tsp. ground cloves
a few good twists of the black pepper mill
1 tsp. baking soda
1/2 tsp. sea salt
2/3 cup oil
1/4 cup vanilla non-dairy milk
optional: the zest** from an organic orange
* Stevia is like a herbal version of asparthame - without the scary side effects or the disgusting taste! Like other sugar-free sweeteners it's often far more concertrated than 'regular' sugar so you wouldn't use it teaspoon for teaspoon. Every brand tastes slightly different - I like the one mentioned above.
** Zesting tip: When grating the orange rind, do it lightly - one grate on an area and then move on. Grate, rotate, grate, rotate. You don't want the white pith in there - it's bitter. My favourite tool for this is a
Microplane Rasp
.
Preheat oven to 375oF. In a large bowl, whisk together flours, stevia, spices, baking soda and salt.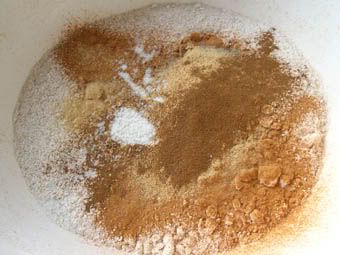 Add the oil, milk and orange zest if desired. Mix just until all the flour has been absorbed.
Form dough into a rectangle (about an inch-and-a-bit thick and 4 inches wide)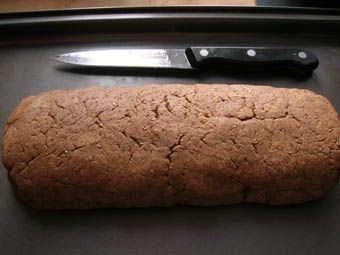 and slice width-wise, about 1/4-inch thick.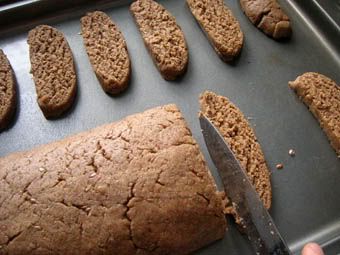 Place them on an oiled unrimmed baking sheet. Bake for 8 minutes.
Makes about 3 dozen cookies.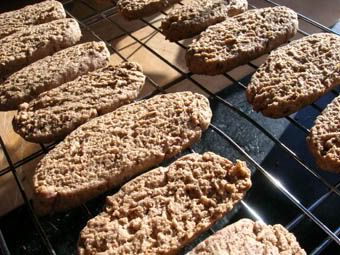 Chocolate-dipped Clementines
1 cup bittersweet chocolate chips (or chopped chocolate)
1/4 cup organic (non-dairy) milk and/or filtered water
5 or more clementines, peeled and broken into scliffs (you know you can get organic ones now, hey?)
cinnamon for sprinkling
1. Melt chocolate and milk/water on low-medium heat in a double boiler, stirring pretty regularly (keep a good watch on it and remove from heat once it's smooth and melty - I've burned chocolate on more than one occasion!).
2. Lay out some parchment paper on a cookie tray. Pick up a scliff of clementine and dip the bottom half to two thirds in the chocolate, and lay it gently down on the cookie tray. Repeat until you run out of chocolate and/or fruit.
3. Sprinkle with cinnamon and allow to cool in the fridge for half an hour. Gently peel treats off the parchment and arrage on a pretty plate to serve.