This post was brought to you by the number 4
First though, there are all these knitters who talk about their pets. There's the
Knitting Kitty blogring
, and the
Purling Puppy blogring
and even a
Knitters with Pugs
blogring. I have never really been a pet person, but I can't imagine a home without plants. In my 2-window apartment I have 32 plants. Not only are they air purifiers that need no electricity or filter changes, but they brighten up a living space.
So with the same level of enthusiam that the mother of a sweater-sporting wiener dog might have, I invite you to take a look at this: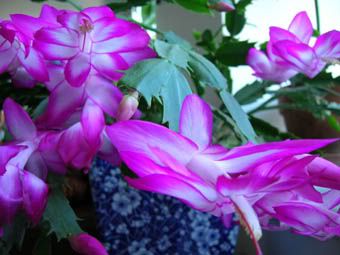 Christmas may be over, but don't tell this cactus! Ain't she a beaut? I count 11 flowers and buds in that picture alone!
Okay and now for one of my favourite kinds of blog posts, sent to me by
Jill
. Actually I asked that she stick me with it, because I love memes, but I don't think there's anything wrong with that. I'll say it again - I love memes! And if you ever need to tag anyone with a meme I'm your grrl.
Four Jobs You've Had In Your Life
1. My stint of serving at the somewhat fancy vegan restaurant
Fressen
lasted all of one weekend. Hosting, serving, busing and bartending at (very busy) brunch for 18 tables with only one other server who'd only been there himself for 2 weeks was far from my cup of tea. Not to mention I fell down all the freshly-mopped stairs (that had no handrail) at the end of my first night of training and the owner never even asked me if I was okay.
2. The summer I was 17 I was the Arts and Crafts activity head at my
all-girls camp
north of Kingston. I loved the job of having to make crafts everyday.
3. At the age of 20 I was a mother's helper to the newborn twins of the director of an
all-boys camp
just this side of Minden ON. Needless to say that with only six females in camp and about 70 male staff I got into a little bit of trouble.
4. Almost three years ago I held two co-op jobs at one time - shelving health food at
Karma Co-op
and selling sex toys at
Come As You Are
. The later job had me helping out at female ejaculation workshops and being encouraged as staff to take home the wide selection of porn we carried in the store.
Four Movies You Could Watch Over and Over
1.
Pretty in Pink
- This has been one of my favourtie movies since I was like six or seven. It was the first time I think I ever saw a french kissing scene. As I got older, whenever a friend who was a boy would get a crush on me, my mum would try and inspire compassion by saying "Remember Duckie?".
2.
When Harry met Sally
- Can satisfy a good New York craving and it's all of those actors at their best. Pecan pie anyone? How 'bout singing "Surrey with a Fringe on Top" in front of Ira?
3.
The Love Letter
- Haven't heard of it? I'm not surprised. It's a romantic comedy with Ellen Degeneres, Tom Seleck and the boy from that Tom Hanks movie, Big, but all grown up.
4.
Monsoon Wedding
- Every time I watch this I say to myself: I've got to take a trip to India one of these days. Not to mention I love marigolds.
Four TV Shows You Love to Watch
I don't have a TV really (it only plays DVDs), but I'm a huge fan of renting seasons of TV shows on DVD, like:
1.
Gilmore Girls
2.
Six Feet Under
3.
Queer as Folk
and the unfortunately more cheesy
The L Word
4.
The Sopranos
IfI i did have a TV I would make a point of watching
Grey's Anatomy
and
Queer Eye for the Straight Guy
everytime they were on. It's very healthy for me not to have a TV.
Four Favourite Books
1.
The Chelsea Whistle
by
Michelle Tea
- Paul got me this book for my 23rd birthday. When I read it the last chapter struck me so profoundly that it kept me in bed for a week. No joke (admittedly I was going through a rough patch).
2.
Flaming Iguanas
by
Erika Lopez
- This book is laugh-out-loud hillarious. Sadly the two subsequent books in the trilogy couldn't come close.
3.
Cunt
by
Inga Muscio
- Three for three! Michelle, Erika, Inga - all dykes who live in SanFrancisco. Weird, hey?
Cunt
is one of those must reads for anyone with a cunt or anyone who intereacts at all with anyone with a cunt. Inga's way of writing has certainly inspired mine.
4. Do I go for
A Complicated Kindness
by Miriam Toews (pronounced
Taves
- funny, hey?) - the best piece of fiction I've read in the past year or more - for my last choice, or
The Whole Foods Encyclopedia
by
Rebecca Wood
, that I read absolutely all the time?
Four Albums You Can't Hear Too Often
Okay, I added this question in myself - hey, there was nothing about music in here.
1.
Sufjan Stevens
- Greetings from Michingan (Yes, still. It was a year ago that I posted about this album and I still put it on almost ever Sundae.)
2.
Apostle of Hustle
- Folkloric Feel
3.
The Organ
- Grab that Gun
4.
Bell Orchestre
- Recording a Tape the Colour of The Light (This one I have to be careful of because it has this beautiful-but-cold-Montreal-lonely-wintery kind of feel that I can get into enough that things can start to feel bleak or a little too emotional.)
Four Places You Have Lived
1. I've spent the majority of my life here in Toronto, ON.
2. I've lived in both Hamilton, ON and Peterborough, ON for university. I prefered Peterborough, but I didn't manage to get a degree in either place.
3. Summers for camp have been spent in Tichborne ON, Sooke BC, Port Moody BC, and Minden ON.
4. Work exchanges on organic farms in St Marcel-de-Richelieu QC, Waterville NS, Lytton BC, and Saltspring Island BC.
Four Places You Have Been On Vacation
1. Most recently I was in Italy, though I can't really say it felt like a vacation. More like unpaid (though expenses covered) work for three weeks.
2. I went with my dad and step-mum to Scotland and England when I was eight, but I spent the whole time being homesick. (I was a sucky kid like that.)
3. There was a period of time when I was in New York almost every year.
4. I went down to Florida with my mum to visit family in second grade and again in sixth or seventh grade. I wasn't allowed to go to any of those Disney places. Busch Gardens was as touristy as it got.
Four Websites You Visit Daily
You mean other than Domestic Affair comments, G-mail and Blogger?
1. I check the weather forcast most days on CBC.ca
2. In terms of weblogs, I can't honestly say that I'm a regular reader. I go through spurts with different ones.
It's not that I'm not on the internet often enough, I just bounce around a lot. You just have to see the number of links in the sidebar to know that.
Four Of Your Favorite Foods
1. Creemy things like yogurt and ice cream
2. Fruit
3. Fresh bread, toast, baked goods (can you tell I'm likely hypoglycemic?)
4. I could say chocolate, but more often these days I try to replace those cravings with sweet potatoes and millet.
Four Places You Would Rather be Right Now
1. Montreal (I can't think of a time I would ever not rather be in Montreal, hence the Fall moving plan.)
2. New York City (My plans to visit over March Break have just fallen through. Booo.)
3. France (Ever heard of
Plum Village
? - I really wish I could afford to visit) or someplace in India (This one'd require more research.).
4. Across the room (instead of in this computer chair), curled up knitting or with a book in the big armchair that faces the big window that looks out on to a busy downtown Toronto street and the edge of Trinity-Bellwoods Park. Mmmmm. I love my apartment.
Four People You'll Tag
I'm gonna try my luck with
Allison
,
Megan
,
Robyn
and
Jodi
.