A bit of a dilema
I hope I didn't just freak you right out (or possibly bore you to death) with all that fasting talk. Was it the content, or the length of the post that left you all speachless? I guess you go to
school
for nutrition and end up assuming that everyone wants to talk about bowel cleansing agents.
So back to the topic that unites us all, I have a bit of a dilema to contend with. It's another case of my hands not being able to knit as fast as my eyes can wander. This particular case involves a particular
scarf pattern
that I'm using for the second time (though first time this season - please forgive the flash photos, it's dark out)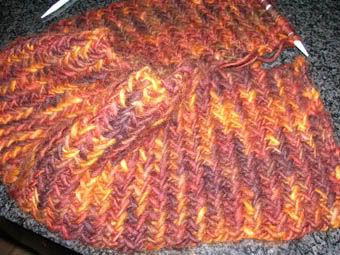 in the wool that can also be seen in the photograph below on the left, but all of a sudden, almost a whole skein in, I've decided I'd rather be knitting it in the colourway as shown in the skeins on the left: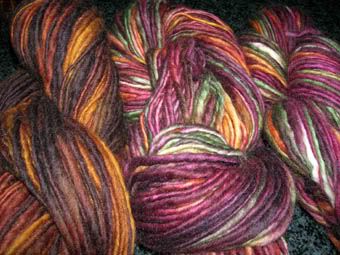 (The good news is, they both have orange in 'em, which is the colour of
my ribby toque
that I love.)
Do I suck it up and stick with what I've already started?
Finish what I've started and try and find someone to gift it to, and then start on the scarf I now really want for myself?
Or transfer the already-started-scarf onto other needles, knit the new scarf, and then revisit the first scarf as a gift item once I've got what I want?
Sigh...