Curry in from the cold
I know it's not Friday, but I'm sure I'll have something else to say about food by then.
I was inspired to create this recipe when I got home from my day of facing this snowy-wet-dreariness we're being subjected to here in Toronto right now. I will admit, I know far less about Indian cooking than I'd like to - that's why my friend Dan wrote most of the Indian recipes in my cookzines. So, though I wouldn't call this an Indian curry, it's certainly Indian-inspired. It's rich and warming what with the coconut milk and all those spices. The sweet potatoes, red pepper and, again, the coconut make this stew pleasantly sweet.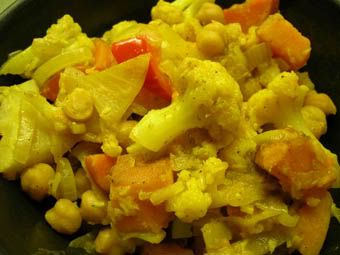 Coconut Cauliflower Chickpea Curry
2 medium-large onions, chopped
1-2 tbsp. unrefined/non-hydrogenated coconut oil or olive oil
2 large carrots*, chopped
3 large cloves garlic, minced
1 tbsp. grated ginger root
1 - 2 tbsp. curry powder (try
this one
, or a blend that you really like - it should include corriander, turmeric, cumin and cinnamon)
1/4 tsp. cayenne
1 tbsp. sea salt (I know it sounds like a lot, but you're making quite a bit of stew here)
2 fist-sized sweet potatoes* (white potatoes could be okay too), diced
3 cups small-chopped cauliflower
1 red bell pepper, chopped
2 1/2 cups cooked chickpeas
1 can good quality coconut milk (I like
Thai Kitchen Organic
- but not the 'lite' kind)
1 cup filtered water (or more to desired consistency)
1/4 cup shredded unsweetned coconut
a handful of chopped cilantro (optional garnish)
* If your produce is organic, just scrub it real well before chopping, as there's lotsa nutrients in the skin and just under the skin. If it's conventional, you're better off peeling.
In a large soup pot, saute onions over medium heat for about 5 minutes. Add carrots, garlic, ginger, curry powder, salt and cayenne. Saute for five minutes more before adding the sweet potatoes, califlower, red pepper, chickpeas, coconut milk and shredded coconut. Cover and cook for about 15 minutes, stirring occasionally, until sweet potatoes are soft. Remove from heat.
Serve hot, perhaps over cooked brown basmati rice and spinach, garnished with cilantro if desired.
Makes about 6 to 8 servings, depending on how hungry you are.
(If you know a good amount about Indian culinary arts and I've broken some cardinal rule, please let me know. I know I'm always tempted to give someone a piece of my mind when they put carrots in a lasagna or spaghetti sauce.)