Get well soon
Well it's happened - I've just acquired my first cold of the season. You might not even know it to see me, but it's there. It comes from a number of days in a row with a certain almost-three-year old and her one-year-old sister who've pretty much had colds since late September. We ate off the same plate once or twice - I knew I shouldn'ta done that.
Here's a list of some of the natural remedies I've collected over the years. I invite you to try them if you're a confident self-healer, or consult with a holistic practitioner if need be.
First off -
drink, drink, drink
.
Being well hydrated is always important, but drinking lots will help flush the sickness out of your system. Filtered water is vital, just don't drink it cold. Try warm water with lemon and honey (yes it's a sugar, but it's also an antibacterial agent). In terms of teas, warming herbs like ginger root can do wonders - bring a small-medium pot of water to boil, turn off heat and throw in as much fresh (or frozen) grated/chopped ginger as you can stand (avoid if you're in the first trimester of pregnancy). Cover and allow to steep for 20 minutes or more. I like echinacea tea with cinnamon sticks. Thyme leaf tea is anti-microbial (try it with fresh lemon juice and honey). Also a tablespoon or two of miso in a mug of just-boiled water (don't boil the miso or you'll lose the healing properties) with chopped/grated raw garlic and a pinch of cayenne (again warming) or
miso soup
. (Notice I'm not mentioning orange juice? It's too sugary! Especially undiluted.)
Got a sore, scratchy throat? Try gargling with a little apple cider vinegar or some salt water (1/2 tsp. sea salt to 1 cup just-boiled water - allow to cool to a tolerable temperature). Also try this recipe (adapted from Aviva Romm's book
Naturally Healthy Babies and Children
):
Kudzu Apple Juice
Kudzu, which can be found in health food stores and asian markets, is used in Chinese Medicine to treat colds (amongst other things). I find that it has a mucliagenous quality like slippery elm or marshmallow root, that is really soothing for my throat.
1 litre unclarified apple juice (you can also use pear juice)
4 tsp. kudzu root powder
1/2 tsp. cinnamon
Pour half the juice into a saucepan and heat over medium. Dissolve the kudzu root in the rest of the juice. Stir this into the saucepan, and bring to a boil, stirring all the while. Reduce temperature to low and heat 2 minutes more. Cool to a drinkable temperature (it thickens as it cools). You can drink up to one litre per day.
Second - if you're not hungry,
don't eat a whole lot
. Veg and a bit of fruit is good, but nothing heavy like baked goods or fats. Let your body put less energy into digestion and more energy into getting you well. Foods you eat should be warming - like soup. Avoid/eliminate congesting foods and non-foods - no dairy (it's really mucous-forming), sugar, refined foods, coffee, alcohol... and also moldy foods, like peanuts, that are immuno-comprimising. I eat lots of greens - especially parsley at this time, not only for chlorophyll, but for vitamin C.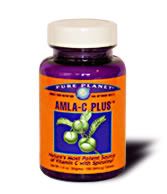 Speaking of
vitamin C
- not all brands are made equally. Whole foods (as opposed to synthetic) sources are best - I like
Pure Planet's Amla-C Plus with Spirulina
. Ester-C is also a good choice. Vitamin C is water soluble so you don't need to be super concerned about taking too much, but I'd say limit yourself to 500 mg every two hours (remember, I'm telling you this as a 'friend', not a professional!).
Herbal tinctures
are another option - I like
St. Francis Herb Farm's
Deep Immune
or
Echinaseal
(with cayenne - it's firey!). They say you can take 1 drop for every 2 pounds of body weight every two hours for severe colds, or 1 drop for every 5 pounds of body weight for milder colds. If you're into
Oil of Oregano
, take the drops under your tongue and wash it back with water (gawd, it's aweful stuff!) - don't put it in a glass of water because too much'll stick to the glass, and this stuff ain't cheap!
If you're prone to, or would like to avoid sinus infections - try a
neti pot
. It's an ancient Indian tool for nasal irrigation - sounds a lot worse than it actually is. Have any of you tried it? Do you remember it being
mentioned
on
Six Feet Under
in season 4?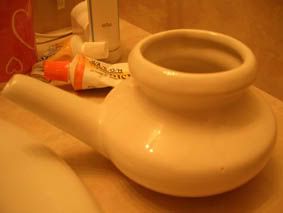 I got mine from
Snow Lion
- you can often find them at yoga/ meditation supply stores, and I know you can find them all over the place on the internet. You can even watch a video demonstration
here
.
Take a
warm soothing bath
with a couple drops of eucalyptus essential oil. Better yet, boost your metabolism (which gets your lymph flowing) with
hot/cold showers
. Take 'em at a hot:cold ratio of 3:1, so 15 seconds hot:5 seconds cold, 30 seconds hot: 10 seconds cold, whatever. It doesn't have to be boiling then freezing either - start with warm:cool, then warmer:cooler, then hotter:colder... Do at least three repetitions and end on cold - you'll feel warm when you shut of the water and reach for your towel.
And finally -
rest!
Get sleep, avoid stress (or address it quickly), don't watch junk TV or read/watch miserable news. It's the season of hibernation after all.
Genuinely nourish yourself.
Hope this helps!