Go for the grains
Would you mind if we talked about grains this week?
We're all familiar with
wheat
. It's the world's most popular carbohydrate crop - it's grown in almost every country (in the US it's grown in almost every state even). And though it is said to be helpful for a whole range of stress and mental health systems, as well as nurturing the heart and being good for the musculature, it's one of the most common food allergens. My understanding is that we use it so much, we've become intolerant to it.
Let's tell it like it is though. White flour, your unbleached all-purpose flour, is a
non-food
. It may make some of the best textured baked goods, but refined of its bran and germ, it's doing nothing to really nourish your body (even though it's
enriched
). But you already knew that, right?
I challenge you to cut out wheat (this includes bulgur and couscous) from your diet for two weeks and see how you feel. Your baked goods and pastas should all come from other grain sources during the two weeks. Be sure to check product labels, like on your bottle of soy sauce even. After that time, add it back in and see if you feel a difference. You may find during the time you elimated it, you were relieved of certain health problems that returned when the wheat was reintroduced. (I was first told by my naturopath to cut it out to moderate my anxiety levels, later I discovered I was allegic to it.) Keep me posted.
There are other glutenous grains that are often tolerated by those who don't do wheat, just as long as you don't have
celiac disease
. Try:
*
spelt
- It's an ancient relative of wheat, but contains more protein and is great wheat flour substitute. I bake with it all the time, as you may have noticed. Remember
this recipe
?
*
kamut
- Another relative of wheat. Often found as cereal puffs, or in breads and pastas. Try
this whole grain recipe
.
*
oats
- Steel cut or even "old fashioned" rolled oats are far better than quick oats. They're great for your nervous system. Try
this tasty treat
or
this more recent recipe
.
*
barley
- Pearl barley's alright, but pot or Scotch barley is far more nutritious. It's warming, and contains more protein than rice. Try
this recipe
.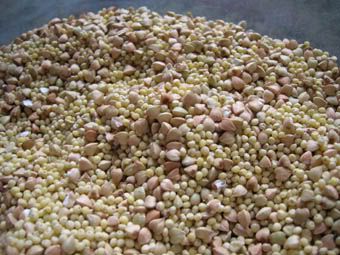 But the majority of your carbohydrate consumption should be coming from non-glutenous grains as they're less congesting.
We all know
rice
, and as I'm sure you suspected brown, wild, and red rices are all healthier choices than the white stuff. (We certainly can't forget
this recipe
.)
But what about these?:
*
quinoa
(say KEEN-wah) has the highest protein and calcium content of any grain - more than cow's milk in fact! Cooked, it's also the prettiest grain. Just remember to rinse it well before cooking - it has a bitter coating on it, but it's nuthin' a little slosh in cold water won't take care of.
*
millet
, I've heard, has the highest iron content of any grain, which makes it a great choice when your bleeding, or pre- or post-surgery. It's also a good source of protein. This alkaline grain soothes the stomach, is easy to digest, and is said to help prevent miscarriage.
*
buckwheat
(toasted it's called 'kasha') is warming, wards against radiation, and reduces blood pressure. Often found in cereals. Avoid if you suffer from skin allergies or cancer.
*
amaranth
- these tiny grains are easy to digest, and are also the first runner up in the protein and calcium competition. Also contains iron, and has twice as much fibre as wheat. Impossible to rinse in a strainer as the grains are just too small, so buy organic.
Back in October, my friend
Noah
came to dinner and the two of us were bemoaning the amount of action amaranth gets in our kitchens - it's so nutritious, and yet so difficult to use. Cook it on it's own and it's often gluey and unexciting. Throw a couple tablespoons into a pot with whatever other grain you're making and run the risk of 'gluing' that up too.
Since then, he has kindly sent me this:
Puffed Amaranth
Take your amaranth and put it in a skillet, on medium heat. Now comes the tricky part...you need to stir it, but you also need to cover it, because when amaranth gets a-poppin' it likes to leap right out of the pan. SO - cover it, and about every two minutes, whip the cover off and stir like crazy and slam the lid back on.
A boring alternative to this is to put oven mits on and lift the whole shebang off the heat and shake it, like you're making popcorn.
When it's all popped, usually around the time it starts burning, dump it out of the skillet. You can then do various things with it:
* Mix it with honey or molasses to make a sticky treat.
* Leave it to cool and mix it into your breakfast cereal, granola or oatmeal.
* You could also add it to cookies or muffins or other baking things, casseroles, soups, salads, nachos...anything really!
Amaranth is good for you
Amaranth is fine
I like amaranth
I just don't know what to do with it...
For more grain cooking information and recipes, get a hold of the award-winning book
The Splendid Grain
by Rebecca Wood.
You'll also find that all the recipes in the sidebar on the blog here are wheat-free.