I've got worms!
My conversation repetoire has been so health-focused these days that when I called my mum yesterday and said excitedly "I've got worms!" she thought I meant pinworms or something.
I was talking about
red wigglers
.
Come on,
you may be thinking.
Worms? What does this have to do with domesticity?
Personally, I don't think it takes any stretch of the imagination to see that compost is a domestic affair.
I live in a city with a relatively newly issued
green bin programme
. I have also been a devoted composter my whole life (I got the Environmental Award at my sixth grade graduation, I'll have you know), so when I moved into a building that takes care of its waste privately and therefore isn't in on the green bin action, I started freezing my compost (so it wouldn't smell) and sending it home with my mum whenever she'd come to visit. I maybe have to take out my garbage-garbage like once every three weeks - that's less environmental impact than most people on our continent can boast. Still, the system is less than ideal.
I was watching that environmental documentary
Go Further
with Woody Harrelson again recently and was reminded of how effectively worms consume food/plant watse and turn it into worm castings (that make for great plant fertilizer).
I
have lots of plants, and they could do with some nice, rich fertilizer. So I visited
Grassroots
.
When I worked there five years ago, the store carried Vermicomposting kits (boxes, bedding, worms), but they've stopped carrying them because people would have to preorder their worms and then they wouldn't collect the li'l wigglers when they came in and they would die (the worms, not the people). None the less, they were a helpful resource as they had something I could use as worm bedding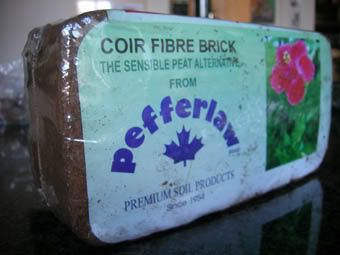 and gave me a number for a local woman who was willing to part with some of her worms in exchange for a donation to the
Toronto Wildlife Centre
. (The woman, Anne, was very friendly on the phone. I picked them up from her place of work and brought them home in a little backpack stuffed with toques and scarves for insulation so they wouldn't get cold.)
I made a trip to
Canadian Tire
to get myself a smallish Rubbermaid box (it's just me in this apartment, and an appropriately-sized box is important)... with two lids. And some screen - which annoyingly I had to buy a whole roll of, even though I only needed like a square foot's worth.
Michael drilled some 1/4" holes in the box so those worms can breathe for lord's sake - six in the bottom, and six around the edge at the top.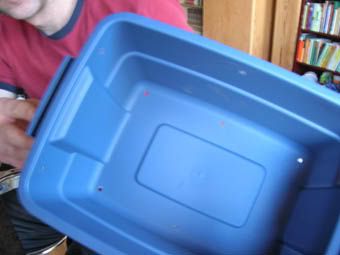 Then we had to cover the holes up with the screen. (My worst nightmare would be for those worms to escape and be wriggling loose in my apartment.)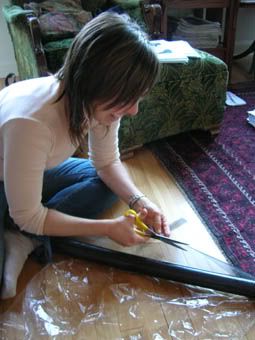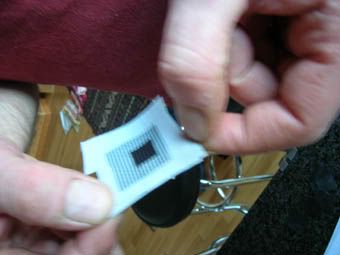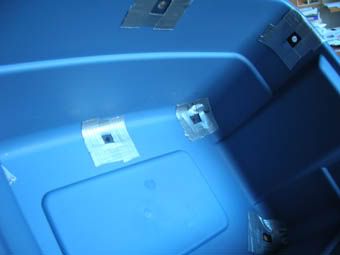 I soaked the bedding in a bucket of water. Once it'd expanded like crazy, I squeezed it out real good and tossed it in the vermibox. I slid the second lid underneath to catch whatever might come out of the drainage holes.
I sliced up some paper bags from my recycling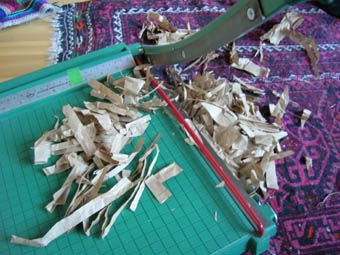 (I didn't think ahead - slicing on the carpet required bringing out the vacuum later - boo) and mixed them in too.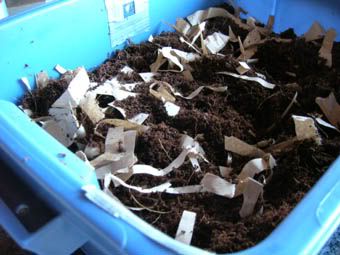 Then I burried some chopped food scraps.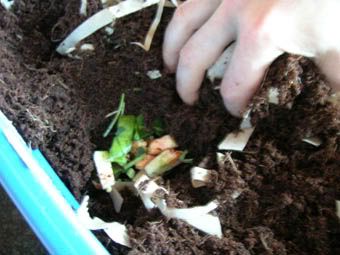 (They say food has to be burried to avoid attracting fruit flies.)
Finally the good clean fun had to end. I had to release the worms.
I approached the bucket. (For those of you that are squeemish, I'm giving you forwarning on the graphic photos that'll be coming up shortly.)
Opened it up. A little smelly, but not too bad.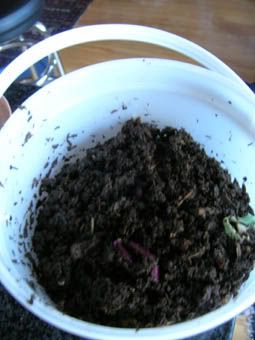 But then I poured 'em in.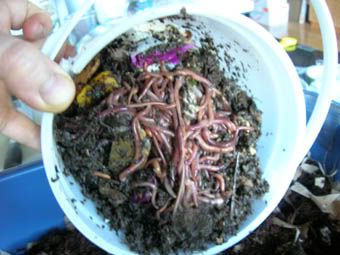 Eeeeewwwww!
And here is where I made my first mistake, because although the directions I got said pour the worms on top and they'd quickly wiggle down because they don't like light, my worms came with a bit of food to sustain them on their travels, and now that food was on top.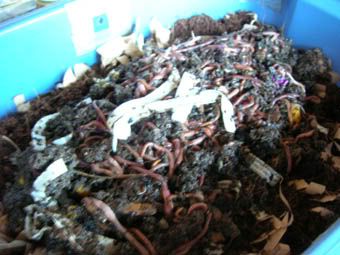 I'm considering adding more bedding on top, but I don't want the vermibox to be too full.
Both my mum and Michael asked me if I was going to name them. Maybe knit them little sweaters, too?
"There are so many!" I responded. And I'm not sure I want to get that close to them that I recognize them individually. If that's even possible. Maybe it'll be like
Finding Nemo
, where the clownfish plan to name half their babies Marlin Jr and half of them Coral Jr and one of them Nemo.
Maybe vermicomposting is something
you
want to learn more about.
Here are the best resources I could find:
*
Worms eat my garbage
by
Mary Appelhof
*
New Mexico State University Vermicomposting Guide
*
Urban Agriculture Notes
*
Compost Guide site
*
University of Nebraska Vermicomposting site
*
Peace Corps site
*
Cathy's Crawly Composters
(an Ontarian commercial site if you wanna buy a kit)
This could be a great project if you have kids, or if you work with kids.
There are even
teaching resources
available.
Now if you've vermicomposted yourself and have advice, bring it on!