Zzzziiiines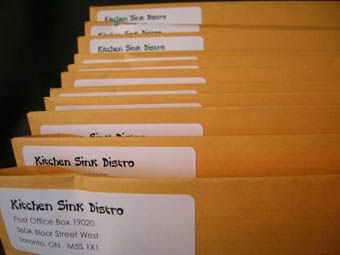 This
is the wack of zine orders that I mailed off yesterday.
Whew, did it ever feel like a relief - I'd finally come across a few orders from last spring that'd gotten lost in the shuffle of moving... and moving. Of course I chose to do it on the day that the
Canada Post
raised their prices, but I guess that's just the way it goes.
So let's talk about zines, because we so rarely do.
Zines have been a long time interest of mine. For even longer, and an even greater interest than - gasp! - knitting. I always have a handful of zines on the go, and it's possible that if I wasn't concerned about having an income I'd spend all my time making zines.
What I love about zines is that there a creative and relatively low-budget way to get information out into the world. You want women to know how evil conventional menstrual products are, or you want to encourage people to eat locally, or you just want a wider audience for your daily musings... you put out a zine. Y'just DO IT YERSELF. DIY. Simple. Or complicated, depending on how you want to go about it.
The thing of it is though, that I'm a bit stalled right now.
Take Back the Knit #3
and
Ripe #5
are quite near completion, but I can't afford to print a new knitzine or cookzine until I sell of some of my current stock. With that being said, I thought I'd tell you about my creations. (It's
my
blog, I'm allowed to plug my zines, right?)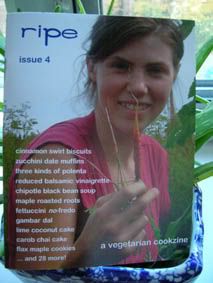 The fourth issue of my cookzine,
Ripe
, is my most recent zine. Like all the other issues of
Ripe
, it's 1/4 letter size (meaning it's a quarter of the size of an 8.5" x 11" page) - so it's small enough to fit in yer back pocket. Some of the 40 recipes included are Cinnamon Swirl Biscuits, Zucchini Date Muffins, Polenta, a coupl'a gravies, reduced Balsamic Vinaigrette, Three Lentil Soup, Maple Roasted Roots, Chipotle Blackeyed Peas with Maple Mashed Sweet Potatoes, Fettucini No-fredo, Lentil Loaf, Lime Coconut Cake, Carob Chai Cake with Cardamom Icing, Rice Pudding, Peanut Butter Cookies, and something like Tiramisu. A number of the recipes have been posted on the blog, but with your own copy you won't have to bring your computer into the kitchen. There's also product reviews and a discussion about the importance of organic food.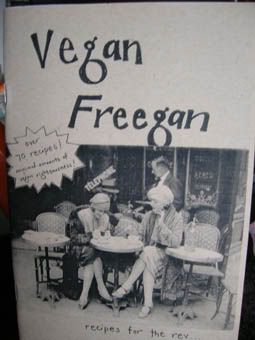 Vegan Freegan
is the first cookzine I ever made (that was back in 2002). It covers a lot of vegan basics with resources and substitution information. The 70 recipes within include Cozy Oatmeal, Granola, Tempeh 'Sausage' Patties, Banana Pancakes, Banana Bread, Applesauce Muffins, Marmalade Flax Muffins, Molasses Cornmeal Muffins, "Cream of" soups (Broccoli, Tomato, Corn, and Zucchini & Leek), salad dressings, Hummus, Pesto, Peanut Sauce, Grilled "Cheese", Dal, Tofu Jerky, Sesame Baked Tofu with Snow Peas and Almonds, Squash au Gratin, Shepherd's Pie with Mushroom Gravy, Chocolate Cake, Fruity Vanilla Cake, Chocolate Pudding Cake, Coffee Cake, Chocolate Nut Butter Pie, Apple Crumble, Chocolate Pudding, spice pudding, Pumpkin Custard, Soymilk 'Whipped Creem', Chocolate Peanut Butter Cups, Banana Coconut Cookies, Date Squares, and banana-date-almond smoothie. It's 68 pages.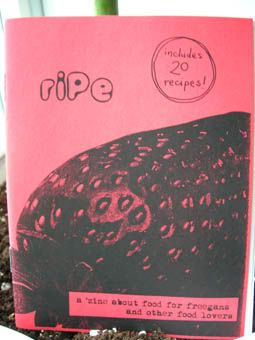 Ripe #1
came next. It's the smallest of my cookzines with 20 recipes including Almond Milk, Bran Muffins, Wholesome Grain Bread, Heavenly Herb Bread, crispy-fried Tofu, Guacamole, Moroccan Garbanzo Bean Soup, and Cowgrrrl Cookies (the best vegan chocolate chip cookies I've ever had!). There's also a mango cutting tutorial, a fun article on quinoa, product reviews, and a list of my top ten favourite cookbooks.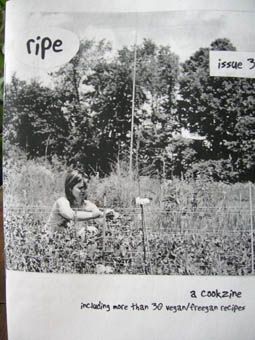 Ripe #3
- This 80-page zine, with me as the cover grrl harvesting snowpeas, includes Morning Muslei, Corn Cakes, Fried Green Tomatoes, Applesauce, Mango Salad, Tabouleh, Ginger Sesame Pasta Salad, Bruschetta, Cannelini Kale Soup, Sweet Potato Soup with Coconut Milk, Portabella Burgers, Pizza, Indian spice mixes, Mangoes with Coconut Milk Sticky Rice, Rhubarb Crumble, Cherry Pie, Zen Brownies, Dr. Razzle Tazzle's Chocolate Raspberry Explosion, and Coffee Syrup. It also gives a rundown on essential kitchen equipment, product reviews, and tutorials on sprouting avocado plants and trapping fruit flies!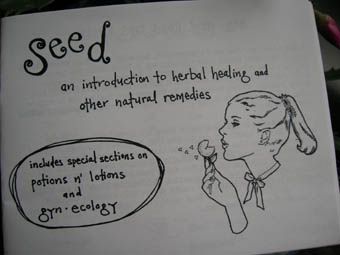 Seed
was born out of a workshop I did on the basics of herbal healing. There's a bunch of information on making your own herbal products - oils, salves, lip balms, creams, face toners, scrubs and masks. There's also a section on gyn-ecology - fertilitiy awareness, emmenogogues, urinary tract infections, and yeast infections. And finally a quick refernce guide to herbs that'll treat particular conditions. It's 46 pages.
And finally there are the knitzines, which perhaps brought you here to the blog in the first place.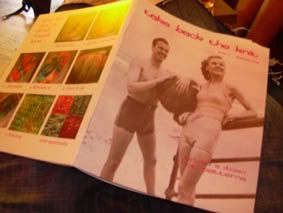 Both issues of
Take Back the Knit
are available right now (the first issue, from last winter, was out of print for a good while). Like
Ripe #4
,
TBtK #2
has a colour cardstock cover and a 'cleaner' look that my previous zines (meaning it spent a bunch of time in Adobe Publisher and was not assembled on my kitchen counter). Both issues have a dozen patterns, #1's are wintery (toques, scarves, ponchos, armwarmers), #2's are summery (bags, bike seat cover, flipflop socks, restraints). I'm sure you know and love a number of the fine folks who wrote for the zines - among them are the bloggers from
Yarn Harlot
,
Cosmicpluto Knits!
,
Jodi's Weblog
,
Mason-Dixon Knitting
,
Knit Wit
,
Is it a Sweater Yet?
,
Tricky Tricot
, and
mk carroll
.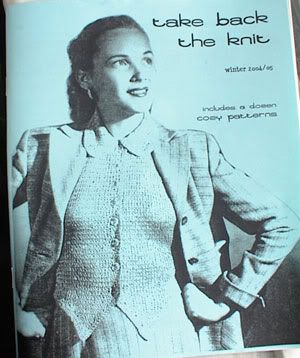 This feels a little like an infomercial, but I'd be ever so grateful if you'd hop on over to the
ordering page
. You can order in your own currency whether you live in Canada, the US, the UK or Europe. Mention it at your SnB and place a group order (it could save on postage, and you'd be what my fellow zinestress
Ayun Halliday
calls a guerilla marketeer!). Order copies to be mailed directly to your friends and family!
If you have some of these zines already, I'd love to hear what you think and if you use them.