Baked goods improve low moods
I'm sure you don't need me to tell you that eating baked goods when you're feeling low, stressed or upset often makes you feel a bit better. But ain't it nice to know that science has got yer back? Turns out, carbohydrates trigger the release of the hormone serotonin, which produces a calming effect. So go ahead and have a slice of cake.
Appleyest Spice Cake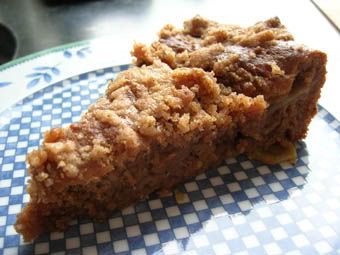 1 2/3 cups spelt flour (if you use wheat flour instead - not that I recommend it - but the amount would be more like 1 1/2 cups)
2 tsp. baking powder
1 tsp. cinnamon
1/2 tsp. nutmeg
1/4 tsp. ground cloves
1/2 tsp. sea salt
3/4 cup applesauce
1/2 cup maple syrup
1/4 cup organic (non-dairy) milk
1/4 cup oil (non-hydrogenated coconut oil or a light-tasting olive oil prefered, or organic canola oil)
1/2 cup chopped walnuts (optional)
1 medium apple, peeled, cored and thinly sliced
sprinklings
1/3 cup spelt flour
1/4 cup dry sweetener (Sucanat or rapadura is recomended, but you can also use organic sugar/ evaporated cane juice, or at worst, lightly packed brown sugar)*
1 tsp. cinnamon
1/2 tsp. nutmeg
1/4 tsp. ground cloves
a good pinch of sea salt
2 tbsp. non-hydrogenated margarine or organic butter
Preheat oven to 375oF. In a large bowl, whisk together the flour, baking powder, spices, and salt.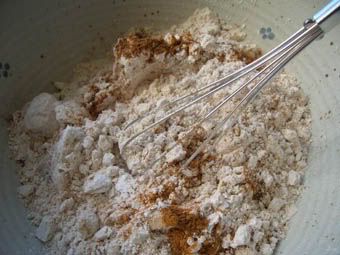 Add the applesauce, syrup, milk, oil, and stir just until all of the flour is absorbed.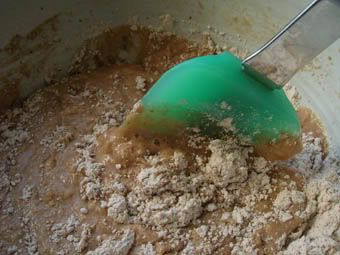 Mix in the walnuts.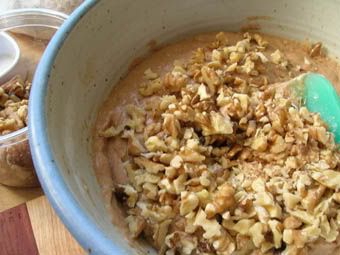 In a cereal-sized bowl, combine all dry "sprinklings" ingredients and then cut in the marg.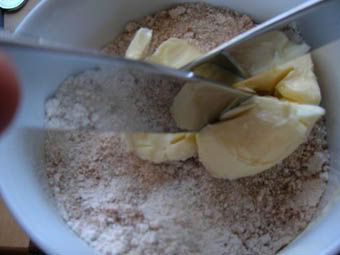 Lightly oiled a 9-inch cake pan, lay down as many apple slices down as you can in one layer. (Chop up any remaining apple and mix it quickly into the batter.) Pour in the batter, and smooth it out gently over the layer of apple.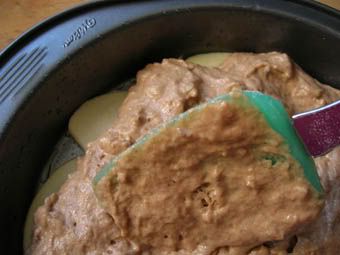 Sprinkle the spice mixture on top and bake for about 35 minutes. Check with a skewer for doneness. (The slice of cake in the photo looks flat because I accidentally pulled it out of the oven and dug right in before it was completely cooked. Hopefully yours won't look like that.)
* If you're interested in more information about sugar and sweeteners, check out this article.