Namaste
Thank you all muchly for your lovely and encouraging comments regarding yesterday's post. Not that I was ever threatening to quit, but I do feel more motivated now to continue posting with the sense of what I've got to say being warmly received.
Speaking of warm, let's put the kettle on and make tea. I just threw some broken licorice sticks, cinnamon sticks and a heaping spoon of St. Joan's wort into a pot with some just-boiled water, but why not try the following recipe sometime soon?
Kashmiri Tea (like Chai)
My mum's partener passed this recipe on to me. It's adapted from this relatively ancient cookbook called
Indian Vegetarian Cookery
by Jack Santa Maria, and you can also find it in
Vegan Freegan
(which, as I'm sure you know, can be easily ordered by going here). The mug in the photo is one that I made, not that you can see it very well, but it's one of my favourites.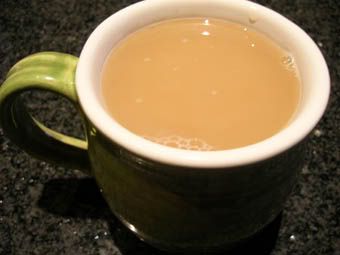 2 1/2 cups filtered or spring water
1 tbsp. green tea
1 tsp. darjeeling or orange pekoe tea
6 almonds, chopped
1 tsp. pine nuts, chopped
6 green cardamom pods
1 cinnamon stick, broken up
2 cloves
a pinch of saffron (optional)
2 1/2 cups organic 'milk' (I'd recommend soymilk for creaminess)
also optional: sweetener (honey, maple syrup or stevia) to taste
Put the water, teas, nuts, and spices in a saucepan and bring to a boil. Lower heat to a simmer, stir in milk and cover, stewing gently for 15-30 minutes. Strain and serve hot, adding sweetener to taste.
.......
Now I know that the list of links in the sidebar here is a little excessive, which means even if it's something you look at from time to time you may not notice new additions as they pop up. So I thought I'd take a moment to welcome the following ladies to my list of blogs worth taking a peek at:
*
a crafty vegan
*
dirty sugar cookies
*
michelle knits
*
28 cooks
as well as these additions to the "environmental" section:
*
Living Tree Paper Company
*
Voice Yourself
- it's Woody Harrelson, actor turned activist!
If I had a TV, I'd be off to watch
Grey's Anatomy
now (it's on Sundae nights, right?). Instead, I'm going to keep on studying for this cellular biology test I've got tommorow morning. Ugh.