Why use one lentil when you can use three?
Rumour has it my friend and fellow cooking enthusiast Elise is coming to town today from Montreal. In honour of her visit I thought I'd post this recipe that she passed on to me. It can also be found in
Ripe #4
(my most recent cookzine).
Three Lentil Soup
Hi Jae,
As promised, here is the triple lentil soup recipe I got from The Angelica Home Kitchen by Leslie MacEachern, which is a really great vegan cookbook.
Enjoy! Elise
Sorry, about the photo - it's hard to make lentil soup
look
attractive. I suppose I coulda garnished it with the scallions though.
1 tbsp. olive oil
2 medium-large onion, diced
a pinch sea salt
1-2 cloves garlic, crushed or grated
1/2 cup diced celery (with leaves)*
1 cup diced carrots
1 bay leaf
2 tsp. fresh minced herbs (sage, thyme, or rosemary; 1 tsp. dried can be substituted)
1/3 c. each: green lentils, red lentils, French (puy) lentils
1 (3-inch) piece dried kombu**
6 cups water or vegetable stock
freshly squeezed juice of 1/2 lemon, strained
sea salt and freshly ground black pepper
finely sliced scallion for garnish
* The first time I made this, I didn't have any fresh celery, so instead I used crumbled celery leaves I had slow-dried in the oven during the summer when I'd gotten a big whack of organic celery. I liked that version even better than the fresh-celery version, which I have tried since.

** I couldn't find kombu in pieces, so I just add a tbsp. or so of the powder. (Kombu can be found in health food stores and asian markets. It's good to cook with legumes as it makes them more digestible and adds nutrients.)
Warm olive oil over medium heat in heavy-bottomed soup pot. Add onions and pinch of salt, cook 8-10 minutes, stirring occasionally. Add garlic, celery, carrots, bay leaf, herbs and saute 5 minutes. Sort through lentils and rinse briefly in a strainer under cold running water.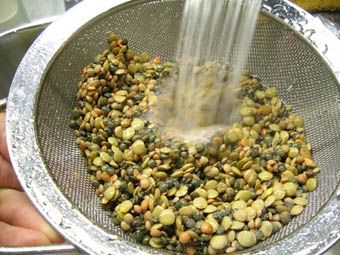 Add lentils, kombu, and water or stock to soup pot and bring to boil. Lower heat, cover, simmer for 40-50 minutes or until lentils are tender. Remove and discard kombu and bay leaf. Stir in lemon juice and add salt and pepper to taste. Simmer 3 minutes. Serve garnished with scallion.