There's green tea, and then there's green tea cookies
It's reasonable to be skeptical of foods that get a lot of press. You may wonder if it's a fad food and being highly publicized just so someone can make a quick buck. Green tea though, has been around for a loooooong time and deserves the praise it's received in the past few years in the mainstream. My research tells me that a cup or two a day can have wonderful health benefits - for weight loss and as an anti-carcinogen. Good ol' antioxidants. (A somewhat recent article in
Alive magazine
says: "Green tea extract is rich in the antioxidant epigallocatechin gallate and supports fat loss by increasing energy expenditure.") If you could replace your morning coffee with a mug of green tea instead (or perhaps in the middle of the afternoon when your energy levels dip), I bet you'd have a better feeling of overall health. If you want more detailed information on green tea, visit this
Green Tea Lovers
site that I just found today.
Now, seeing as we're on a bit of a baked goods role around here already, I thought I'd throw this recipe of lovely
Megan
's onto the pile. I will admit, as is my tendency, I adapted it a little.
Green Tea Cookies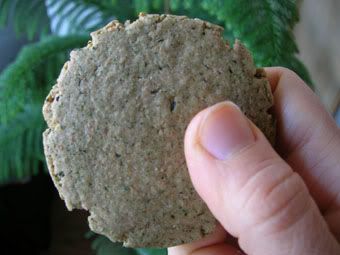 3 cups spelt flour
2 tbsp. matcha (green tea powder)*
1 tbsp. crushed mint leaves
1 tsp. baking powder (aluminum-free of course)
1/2 tsp. sea salt
2/3 cup maple syrup**
1/2 cup non-hydrogenated coconut oil or organic canola oil + more for the tray
2 tsp. pure vanilla extract
Preheat oven to 350oF. Whisk together the flour, matcha, mint, baking powder and salt. Add the rest of the ingredients and mix just until all the flour has been absorbed.
Lightly oil a cookie tray (cookie trays should be flat, not have rimmed edges) or lay down some parchment paper. Roll the dough up into walnut-sized balls. Flatten each ball with the smooth bottom of a glass to the point of being about 0.5 cm thick. Dip the bottom of the glass in some flour if you find you're getting some stickage.
Bake for about 12 minutes (you don't want them browned because they will harden as they cool). Transfer to a cooling rack immediately. Eat 'em warm, or allow to cool completely before storing in an airtight container.
*Matcha is the powdered green tea used in the Japanese tea ceremony. You can find it at any Japanese grocery store.
** I'd be curious to see how they turn out with brown rice syrup instead. I plan to try it out soon.
I feel it's my responsibility to not allow you to be misled - these cookies aren't healthy in a go-ahead-and-eat-a-dozen kind of way (cookies are treats, not health food and I'm happy to keep it that way). I sometimes get these e-mails that say "I'm so glad you're posting these healthy desserts!" and sure, they are healthier than the package goods you'd find at your grocery store, but keep it in perspective - everything in moderation, yes? Know that as the weather gets warmer, there will be fewer and fewer cooked recipes. It's my goal to go for more living foods this summer than I ever have before.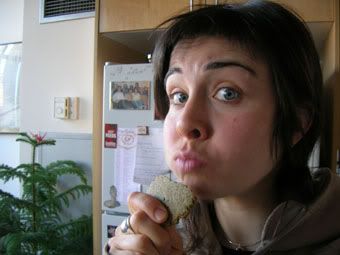 I feel it is also my responsibility to post less-than-gorgeous pictures of myself on the blog every so often, just to maintain a certain level of humility. This pic was taken first thing in the morning (I believe cookies and cake are best consumed earlier in the day) - so now you all know that I don't wake up with the flat-to-my-forehead microbangs that I wish I did.