Fat face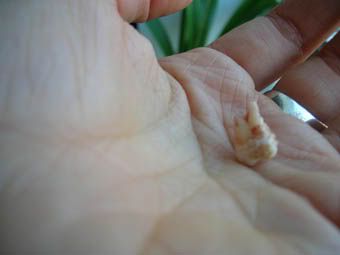 So here's what all the grief was about. All that for this little tooth.
I felt like hell on Friday. It wasn't my mouth so much as my digestive system - what I suspect was a bad reaction to the freezing and laughing gas they gave me. My stomach turns even just to write the words "laughing gas". Yesterday was mostly about pain associated with swelling. Today, I little more up to moving about, but I suspect vanity will keep me in doors - I look like I'm holding a ping pong ball in my left cheek.
I'm glad that I adopted a bit of a pre- and post-surgery plan for natural healing as I suspect it's the reason I haven't felt the need to take any conventional painkillers (Tylenol, etc.). I saw my naturopath last Monday and she made up a plan for me that involved taking homeopathics in the days leading up to the event (Arnica 200 CH,
Traumeel
, and
UNDA
243), as well as afterwards. She reminded me to avoid vitamins C and E, because although they're important for immune support they're said to thin your blood, which can be a bad thing for surgery.
If I had the energy, I'd take this opportunity to talk at some length about how allopathic practitioners might to work better with their patients. It's something I got quite sensitive to once I became a
midwifery student
six years back, and it's stuck with me as I continue to make my way in the field of holistic health. When the oral surgeon, this rather hasty and very-friendly-though-not-at-all-in-a-sincere-kind-of-way middle-aged man, was about to start he commented about my seeming nervous and said that we didn't have to do the proceedure, it was no skin off his back, I replied with something like "Oh, I understand why it's important to do the proceedure" (as I said before I was losing bone and I might have lost the molar in front of it had I left the wisdom tooth any longer) "I'm just used to dealing primarily with holistic health care practioners." What I meant to say was "I've become more accustomed to dealing with practioners who have a stronger body-mind-spirit approach to health and a gentler bedside manner. You sir, seem to be more concerned with getting me in and out the door in 15 to 30 minutes so you can cram as many patients into your day as possible which will finance you next trip to Florida to refresh your tan." But you know, he did the job in a technically compentant way, and that's what was most important. (The assisant, who was more unabashedly cranky, when I asked if I could take my tooth home with me, wrapped it up in gauze for me with a blob of my dead skin still stuck to it. Passive aggressive? I'm not sure.)
So what's better than ranting about less-than-lovely dental practitioners on a rainy Sundae morning? Getting back to my wopping stack of DVD that make a wonderful distraction from the pain - the newest version of
Pride and Prejudice
(I still like the
BBC/A&E version
better), the second season of
The OC
(I'm only in it for Seth Cohen - all those too-skinny women make me uncomforatble),
Margaret Cho
's Assasin,
Must Love Dogs
,
Bewitched
(I told you, I wanted cheesy romantic comedies), and the first season of
Lost
(which I know nothing about but I've heard people are easily hooked on and it stars Charlie from
Party of Five
, yes?).
PS. And thank you all for your pre-surgery words of encouragement. I believe they really helped.