Fresh baked goods
What does a good blogger do when she won't be able to eat anything herself on the day she's supposed to write about food? She prepares the post the night before. Actually, I can't believe I haven't given you this recipe already - I enjoy it so much.
Baking Tip:
In baking there are few things worse than pulling your creation out of the oven at the suggested time and finding it's still wet inside. Then starts the dance of opening and closing your oven every 5-7 minutes to check if it's baked all the way through to the middle, and in the end you never really get the texture you ought to have for your bread.
Avoid a bit of headache and get yerself an oven thermometer (so many ovens are off on their settings!). I have an amazing digital one from
Williams-Sonoma
, but you can find cheaper models, maybe even in the grocery store.
Sunflower Nutmeg Bread
This is a quick-bread that is great served with soup or for breakfast. Nutmeg is such a lovely and destinct taste, and it really comes out in this bread.
3 cups spelt flour
2/3 cup raw sunflower seeds
1/4 cup (dry) millet (could be 2 tbsp. amaranth + 2 tbsp. millet)
1 tbsp. baking powder
1 tsp. baking soda
1 tsp. sea salt
2 tsp. nutmeg + more for sprinkling
1/2 cup applesauce or 2 free-range eggs, lightly beaten
2 tbsp. blackstrap molasses or maple syrup, or 1/2 tsp. stevia powder (optional)
1/2 cup olive oil
1 3/4 cups sour milk (1 tbsp. apple cider vinegar + organic soy milk)
1. Preheat oven to 400oF. In a large bowl, whisk together the flour, baking powder and soda, salt, and nutmeg. Add the applesauce/egg, sweetener, oil and sour milk and stir just until all of the flour is absorbed.
2. Pour batter equally into 2 lightly oiled and floured loaf pans (I used 4 mini loaf pans with the batch photographed) and sprinkle an extra 1/2 teaspoon (or so) of nutmeg on top of each. Bake for 25-35 minutes. Test with a skewer for doneness.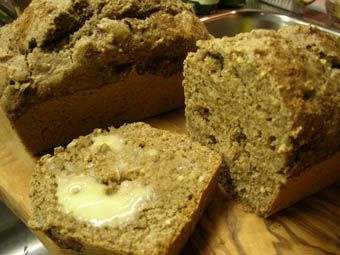 Funny story: Last time I made this bread, I brought some over to my dad's house for dinner. I sliced it up and set it on the table alongside the roast beef, roast potatoes, yorkshire pudding, and boiled cauliflower and green beans that had already been laid out. After everyone had served themselves, my dad reached for the gravy and poured it all over his slice of bread and proceeded to eat it with his knife and fork. My eyes might have widend a little, but I didn't say a word. I had no negative judgement, I simply enjoyed the irony.