Getting yer greens with less chewing
I was worried about getting enough greens post oral surgery, so my mum (my lovely mum, who kindly cooked up lots of great soups and custards last weekend) made me this soup from a recipe I've been using for years. I'm sure you weren't doubting that broccoli is good for you, but did you know that it has twice the vitamin C of an orange, and almost as much calcium as whole cow's milk (but this calcium's better absorbed by yer body!)?
Oh, and Happy St. Patrick's Day! This soup could be part of the all-green dinner you're making this evening to celebrate Ireland's patron saint.
Cream of Broccoli Soup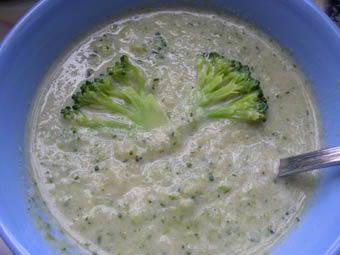 2 tbsp. olive oil
1 medium onion, chopped (about 1 1/2 cups)
1 bay leaf
1/2 tsp. sea salt
1 medium green bell pepper, diced
4 cups chopped broccoli
1 1/2 cups filtered water
2 1/2 cups organic soymilk (preferably unsweetened - you'll want the creaminess of soy)
1/2 tsp. thyme
1/4 tsp. allspice
a few twists of pepper, to taste
1 cup broccoli florets, sliced thin and lightly steamed
1. In a soup pot, saute onion, bay leaf, and salt in oil over medium heat until the onion is translucent (about 8-10 minutes).
2. Add green pepper, chopped broccoli, and water. Cover and cook over medium heat for 10 minutes or until broccoli is very tender (it won't seem like there's enough liquid in there but don't worry, the soymilk's coming in just a moment).
3. Remove bay leaf and puree the soup little by little with the milk in a blender (or better yet, get a handblender and do it right in the pot). Add a little more soymilk if needed.
4. Whisk in the remaining seasonings. Heat gently. Serve hot, garnished with the steamed broccoli florets.
-adapted from
Moosewood Cookbook
by
Mollie Katzen