Happy Birthday Charlie!
My baby brother turned eleven today. Charlie - who's been playing guitar since he was four, who my dad makes give us mini-recitals (playing Jimi Hendrix and Guns n' Roses) after Sundae dinner, and who wrote a song called "I Love Pork Chops" when he was, like, seven.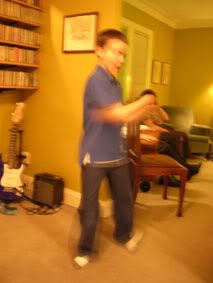 (Do you think I could get him to be still for just a moment?)
His birthday has special significance for me because it also marks the anniversary of the first birth I ever attended - the experience that made me want to become a midwife (not that I've become one yet), and started my interest in holistic health.
Today is Sundae, not Friday, but I thought I'd share the recipe I made for this little chocolate addict with you anyway.
New Classic Chocolate Cake
You'd be hard-pressed to find a chocolate cake as simple and satisfying as this one.
Seemingly off topic, but remember that elementary school volcano project? The one where you made some sort of hollow volcano-looking structure, shook some baking soda inside and then poured in red-coloured vinegar and it all came bubbling out? The science in this recipe is similar: Adding the vinegar to the cake batter gets a visible baking soda reaction going that gives the cake is lightness - or buoyancy if you will. No eggs needed.
Cake-part of this recipe is a slight variation on one by the infamous Moosewood Collective. I've spent enough time in the kitchen with it over the past few years that got a twist of me in it though.
The Cakes:
3 cups light spelt flour
2 cups Sucanat, fair trade evaporated cane juice or organic sugar
2/3 cup cocoa powder (Dutch processed preferred)
2 tsp. baking soda
1 tsp. sea salt
2 cups non-dairy milk or cold (strong-brewed) coffee or water
1 (scant) cup olive oil, melted non-hydrogenated coconut oil or organic canola oil
1 tbsp. pure vanilla extract
3 tbsp. cider vinegar
The Chocolate Icing:
4 oz. semi-sweet chocolate
4 oz. unsweetened chocolate
1 cup icing sugar
1/2 cup non-hydrogenated coconut oil or margarine
1/3 cup soymilk (you could use another non-dairy milk, but we're going for creaminess here)
2 tbsp. cocoa powder
The Vanilla Icing:
1 cup icing sugar
1/4 cup non-hydrogenated coconut oil or margarine
1 tbsp. soymilk
1-2 tsp. pure vanilla extract
1. To start on the cakes, preheat oven to 375oF. In a large bowl, whisk together flour, sweetener, cocoa powder, baking soda, and salt.
2. Pour in the milk or cold coffee, oil and vanilla extract. Mix with a rubber spatula just until all the flour has been absorbed. Once smooth, add the vinegar and stir quickly - you'll see pale swirls as it reacts with the baking soda.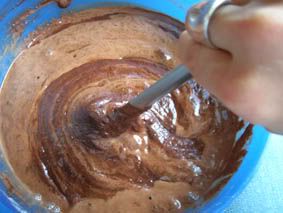 Stir just until the vinegar is evenly distributed throughout the batter.
3. Pour batter into two lightly oiled and floured 9-inch cake pans. If you wanna be guaranteed easy release of the cakes from the pans, now would be a good time to line them with parchment paper.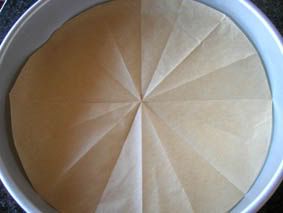 Bake for about 30 minutes. Test with a skewer or toothpick to see if done. Set aside and allow to cool (this is important) before removing from the pans.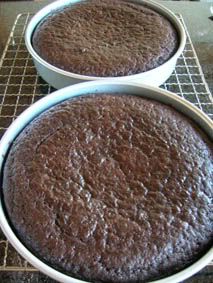 4. You can make the icing in the middle of step 3, once the cakes have been slid in the oven. For the first icing - chop the chocolate finely and melt*. Put the rest of the ingredients into a medium-sized bowl, drizzle in the chocolate and mix with an electric mixer or a rubber spatula. Once smooth, set aside (If it firms up by the time you wanna spread it, just give it a good stir again). For the second icing, just mix all ingredients together.
5. To assemble: Lay down the first cake on your serving platter. Smoothly spread 2/3 of the vanilla icing on the top. Lay down the second cake on top (peeling off the parchment first if used). Gently spread on all of the chocolate icing - starting on the top and then down the sides. I like to use an offset spatula. Once smooth, put the remaining vanilla icing into a piping bag (or a sandwich bag with the teeniest tip cut off) and draw a big spiral on the top of the cake. Go get your fifteen-year-old brother and tell him to draw lines through the spiral with a toothpick, moving from the centre to the edge of the cake. It'll make the lovely spider web-like design pictured. Easy but fancy-looking.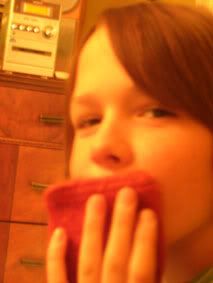 (This is James. He and I are going to Scotland together for July. We're so exicted.)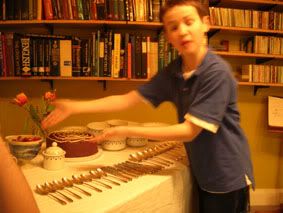 Serve with candles to all your very conventional-eating Scottish relatives and don't tell them it's dairy-, egg- and wheat-free until they've raved about it and are already half-finished.
Kick your brother when he says "I said
plain
chocolate, not
triple
chocolate," (whatever that means - he's cute, but he's a bit of a brat).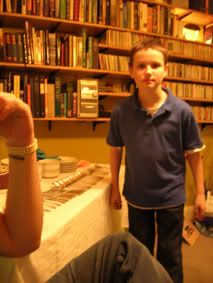 * To melt chocolate, you'll need some sort of a double-boiler set up. When I still lived at my mum's we had two saucepans that fit into each other. You can also use a saucepan with a heatproof bowl (maybe stainless steel or pyrex glass) that fits in it. You want an inch or two of water in the bottom pan. In the second pan, or heatproof bowl goes the chocolate. The bottom of the second pan should not be touching the water in the first.
Chocolate is tricky - mess with the temperature (heat it too long, for example) and it'll seize up. Seized-up chocolate, as far as I know, is impossible to rescue. It'll be grainy and not nice to work with.