Putting the W in Waffles
Whole Grain Waffles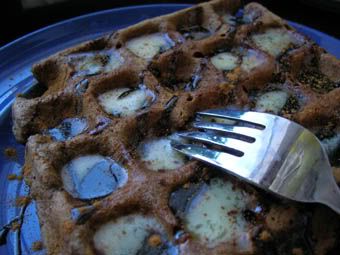 Not only are these waffles wheat-free, but they're make with whole grains in the true sense of the word. Soaking whole grains (rather than using flour) makes them more digestible, and their nutrients more bioavailable. I chose buckwheat and amaranth here as they're grains I don't use often enough in my diet (buckwheat's got impressive amounts of folic acid and zinc, and amaranth, as I've mentioned before, is a great source of calcium, iron, protein and fibre). I've adapted this recipe from the one found here by Rebecca Wood.
I made these on Christmas morning for my family and they were all really impressed with the delicious flavour. They've been a particular hit amongst those who're gluten-intolerant. One batch makes about 8 5"-square waffles.
1 3/4 cups buckwheat
1/4 cup amaranth (or millet, whole oats, or more buckwheat)
1 1/3 cups filtered water
1 organic free-range egg (remember, you are not permitted to use this recipe if you're not willing to use 'nice' eggs)
or
you could try a packaged 'egg-replacer' equal to one egg
2 tbsp. olive or unrefined coconut oil (don't worry - you won't notice an olivey taste with all the other flavours going on in the batter)
2 tbsp. blackstrap molasses or honey (fancy molasses ain't nearly as nutrient dense as blackstrap)
1 tbsp. orange zest (lemon's an okay substitute)
1 tbsp. baking powder
2 tsp. cinnamon
1/2 tsp. sea salt
1/4 cup shredded unsweetened coconut
1/4 cup sunflower seeds
If you're good at planning ahead:
The night before your waffle breakfast, put the buckwheat and amaranth in a bowl and allow to soak in filtered water overnight (or at least five hours).
If it's the morning of:
Soak grains in just-boiled water for an hour.
Drain, rinse and toss the soaked grains in the blender or food processor.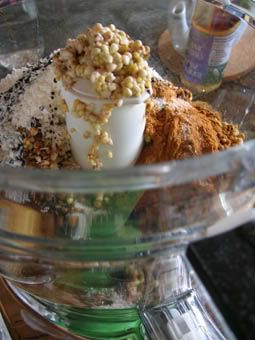 Add the fresh water (1 1/3 cups), egg, oil, molasses, orange zest, baking powder, cinnamon and salt. Give it a whirl just until you get a uniform batter. Throw in the coconut and sunflower seeds and blend just a moment or two longer.
Pour the batter onto a hot waffle iron, close and bake according to the iron's directions. (if you find the batter's a little thick, dilute it with more water, mixing in just a couple tablespoons at a time). Serve hot with your favorite toppings - I like
non-hydrogenated gmo-free margarine
, cinnamon and molasses, but you may also think to top with organic yogurt and maple syrup.
Take note: Don't add fruit to this waffle, as fruit makes it too heavy and acidic and therefore hard to digest. If you're big on enjoying fruit spooned over waffles, apply the principle known as
food sequencing
and have all the fruit you plan to eat first, and then enjoy your waffle.