Weekend away
It feels like I never go away anymore, so when I was given the chance to do so this past weekend I lept at it.
I left Thursday afternoon for Peterborough - my hometown away from home. I didn't grow up there, but it's where a number of my friends who're so close I consider them chosen family reside.
Turns out
Metric
was playing that night and Zach and Jen were going. It was sold out, but turns out Robin, who worked at
Karma
around the same time I did, is one of their soundguys, so I just had to stop by the venue during soundcheck and he kindly put me on the list.
Islands
opened and I was disappointed with
Jim Guthrie
's latest project. The fact that they were all wearing white was cute, but the music just didn't do it for me.
I'm glad I saw Metric as I've been really into their CDs the past few weeks, but I wasn't blown away by the show all in all. If I'd paid the $25 for a ticket I think I would have been sad (indie rock shows are getting way too expensive for me these days). The fact that most of the audience was, like, 18 felt a little weird (think pierced and hair-dyed girls standing in line in front of us - scantily clad in the freezing cold - singing Hustle Rose softly to each other). And Emily's got this sex-robot vibe thing going on that I don't know what to make of. There's no arguing she's hot, and her presentation is far more empowered than most of the front-women we see in bands these days, but I think I would have felt more at home at an
Apostle of Hustle
show, and Jen and I spent quite a bit of time that night talking about great/crazy moments at
Arcade Fire
shows we'd been to.
Here's what did impress me: their drummer, Joules.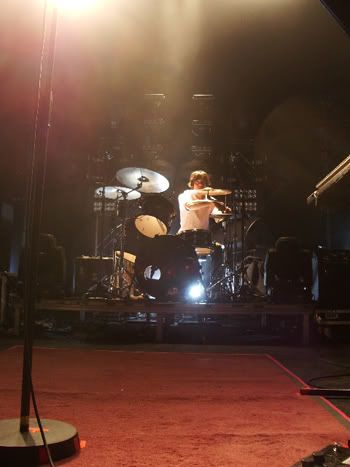 (I did not take this photo. I pulled it off the band's blog.)
And their third encore song, Dead Disco, was killer. Really high energy. Made the show for me.
The next day, Mike, Paul, Abbey (Mike's dog) and I hopped in the car to head towards North Bay. We made a stop in Minden for lunch and of course had to visit the
Kawartha Dairy
for milkshakes. (True, the dairy ain't organic, but the products are local to the region and I have strong childhood connections to the place. We should all write them and politely ask them to take their cows off drugs.) Mike was surprised that the take-out windows aren't open this time of year and you have to go inside to order. Another stop had to be made for groceries in Huntsville, but we got to the cabin around dinner time.
Heather and Sarah and Heather's dog Zeta arrived from Ottawa a couple hours later (turns out they'd had a little harmless run-in with a snowbank on the way up). We had a late dinner that included Paul's fresh-made spelt pasta, and then played Eggcellency, which is this game that I think Mike came up with - it's like Pictionary with playdough.
The next two mornings we skied. I hadn't cross-country skied since I was in eighth grade and I was far more awkward than I'd hoped I'd be.
Now for the photo documentation: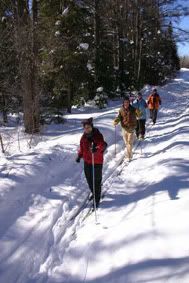 setting off, day 1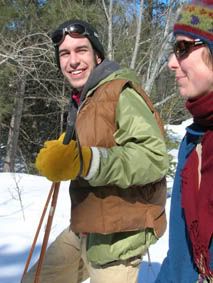 Paul & Sarah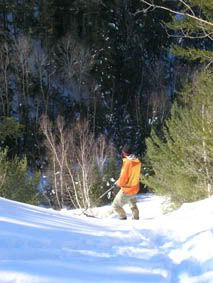 Mike's downhill attempt into Devil's Canyon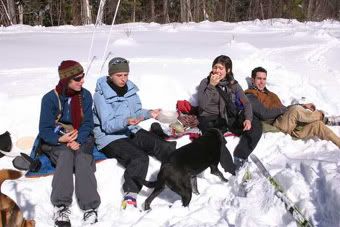 snack break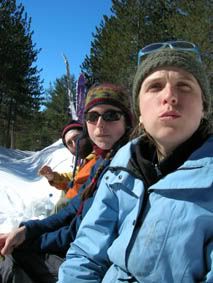 mouths full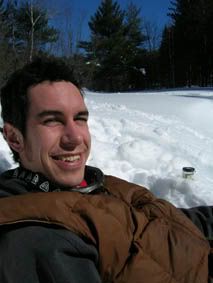 Paul comes prepared with shots of scotch (see the little black-lidded jam jar?)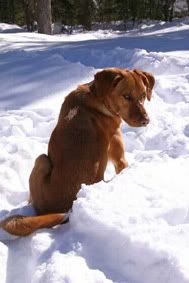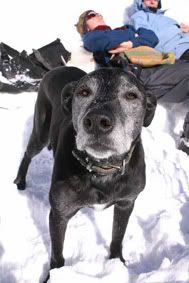 The dogs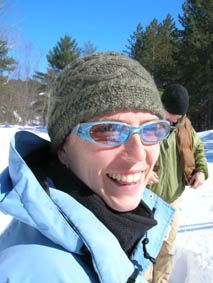 Heather's gorgeous hat - it's a Fibre Trends pattern that looks far better in real life (and without the tassle) than in the pattern photo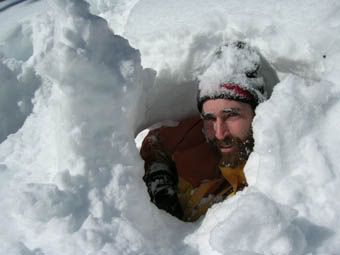 burrowing Mike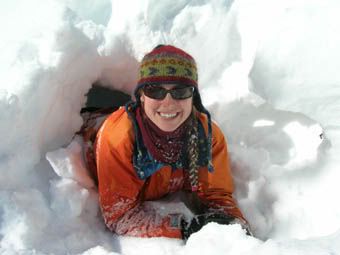 burrowing Sarah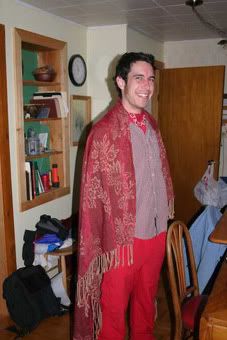 Paul puts fashion first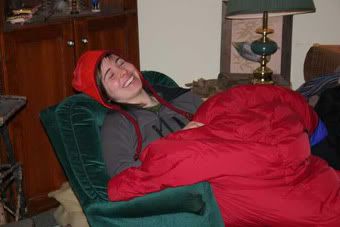 exhausted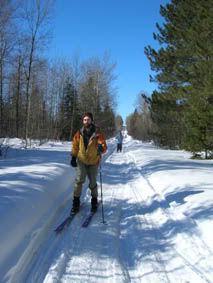 setting off, day 2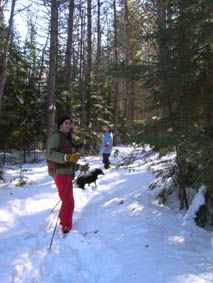 breaking trail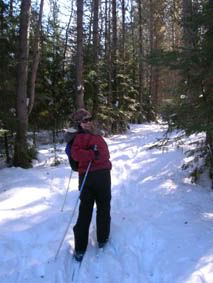 I had the choice between looking hot or staying warm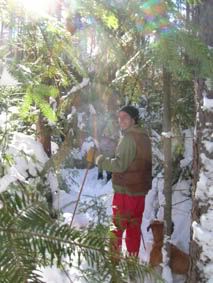 into the woods - in search of chocolate-covered almonds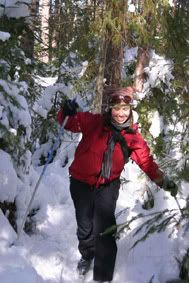 I've never been all that coordinated, I've always been more of an arts n' crafts kinda grrrl
I had to hop on a train back to Toronto on Sundae afternoon in order to make my class this morning, while everyone else stayed up at the cabin till today. The fact that the train conked out at 5:30 about an hour out of Toronto and they had us sitting in it for 3 hours before they brought in buses to drive us down to the city (making my travel time home a 9 and a half hour venture in total) ended my weekend on a bit of a sour note, but I'm gonna write that train company and get them to gimme my money back.