Spring cleaning
It may not be as balmy out as I'd like in this first week of April (I actually woke up to snow this morning!), but spring certainly seems to be going on inside my apartment: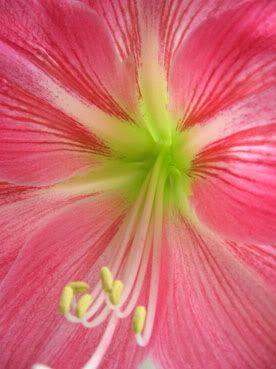 And now that the season has officially changed, this would be a great time for us all to do a cleanse - an endogenous spring cleaning if you will. We've talked a bit about cleansing and fasting before, but I'm mentioning it again because a lot of this stuff is important to understand if you want to achieve or maintain good (or better) health.
Resolutions don't need to be exclusive to New Year's. As the world outside enters the stage of re/birth, we can introduce a new nutritional practice into our lives that may give us a new, fresh feeling, a burst of energy that allows us to shake off all those weighty winter layers. This is as good a time to mention that even if we live pretty clean lifestyles (organic and natural foods, exercise and little to no stimulants), in this increasingly toxic world it is crucial that we detoxify regularly to achieve or maintain good health. I remember being horrified when I found out that certain toxins that we acculumate and store in our bodies are only released, if we're childbearing women, through breastmilk. What a horrible thing to pass on to our children (not that this means that we shouldn't breastfeed - but that's a discussion for another day). If we make a concerted effort to rid our bodies of these harmful substances, we reduce the chance of being sick - for us and our offspring.
Maybe you can intergrate some of these suggestions into your daily spring schedule:
* Upping the amount of filtered or spring
water
you drink in a day is a great start. Carry water with you when you're out and about. Aim to drink a glass each hour. Room temperature water is better for your body (cold is a bit of a shock) and sipping is more beneficial than chugging. Don't drink with meals, as it dilutes your digestive juices.
* Start your morning off with
lemon water
. First thing. Before your piece of fruit, or your bowl of cereal. And especially before your cup of coffee. Get an organic lemon. Roll it around on your countertop a bit (this makes it easier to juice). Wash it. Slice it in half. Put one half aside for tomorrow morning (or later on in the day). Take the other half and juice it into a large mug. Drop the rind in too (if your lemon wasn't organic, don't do this part). Fill the mug halfway with filtered water (room temp or cold) and the other half with just-boiled water. Drink it down. Envison the elixer reaching your liver and saying "Good morning Liver! Time to wake up and do your day's work!"
When you start out with this, you may be quite sensitive - maybe starting with a 1/4 lemon (or even just a squeeze) would be better.
*
Greens
need to be eaten everyday. The more organic (and local) the better. I've heard holistic practioners advise that green vegetables should make up 25% of your diet. Make a point of having dark leafy greens (kale, collards, chard, spinach, dandelion greens and parsely) at least every other day. Lightly steaming them (really just for like 2 minutes - don't overcook) makes easier to digest and their calcium more bioavailable.
* As the weather gets warmer, incorporate more
fresh foods
into your diet. Summer is a great time to start testing out more living/raw food recipes. I'm a big fan of chef and author
Reene Loux Underkoffler
(she's a friend of Woody Harrelson's - did you see
Go Further
?).
* Improve the
quality of your food
. The foods you eat the most should be organic - that makes sense to you, right? Other foods where organic should be a priority are: any animal products (meat, dairy, eggs), oils, leafy greens, and berries - produced conventially (non-organically) they have some of the highest concentrations of pesticides. Organic food can seem expensive sometimes, but it's a question of priority, right? Next time you're at a bar maybe order a juice instead of a beer and put the $5 you saved towards more organics on your next grocery shop.
* You know about
exercise
. You just don't have the time, right? Do you have one minute? Really, just one minute? Especially as the weather gets warmer? Start off with a small amount of deliberate exercise in your day. The next day do two minutes. Work your way up - as it becomes a habit I bet you'll find you miss it on the days you don't do it. Eventually the goal is 40 minutes a day, working yourself up into a good sweat at least twice a week. But start small and you're likely to be more sucessful in the long run.
* I've heard a number of holistic practioners recommend a gentle 15-day protocol from
Renew Life
called
First Cleanse
for those who've never done some sort of deliberate cleanse before. Check it out at your local health food store.
* Now if you wanna challenge yourself to something more hardcore, now's a great time of year to do a
liver detox
. Your liver does about 400 things for you, the most significant being the filtering and detoxifying of harmful chemicals in your body. Be nice to your liver - it deserves it!
You can do some research: go to the
Alive magazine website
and type "liver detox" into their search engine. You'll find tonnes of good articles. And I'll be doing a detox soon, so I'll post about the details then.
Keep me posted as you start doing these things. I'd be happy to hear about it.
Further reading:
*
Staying Healthy with the Seasons
,
Staying Healthy with Nutrition
and
The New Detox Diet
by
Elson M. Haas MD
*
The Complete Natural Medicine Guide to Women's Health
by Sat Dharam Kaur ND, et al.