Cinnamon Swirl
I baked these up for Mother's Day brunch two Sundays ago. This recipe was posted over a year ago (and it's printed in
Ripe #4
) but I've made some changes and taken pictures. This is another good example of coconut oil saving the day as a replacement for unhealthy margarine. Wanna know more about why coconut oil's so great? Read
this article
.
Cinnamon Swirl Biscuits
Mmmm! Here's a real impressive brunch or tea time treat. If you're serving more than three or four people you may wanna make a double batch.
1 1/2 cups light spelt flour
1/3 cup non-GM cornmeal
2 tsp. baking powder
1 tsp. baking soda
1/2 tsp. sea salt
1/3 cup organic unrefined coconut oil, cold (like
Omega Nutrition's
or Orphee's)
2 tbsp. maple syrup (optional)
1 tbsp. cider vinegar + organic non-dairy milk (or filtered water) to make 1/2 cup
Swirl
2 tbsp. organic unrefined coconut oil, softened
2 tbsp. Sucanat, evaporated cane juice/organic sugar or brown sugar
1 tsp. cinnamon
1/8 tsp. sea salt
Preheat oven to 425oF. Line a cookie tray with parchment paper (or oil lightly) and set aside. In a large bowl, combine flour, cornmeal, baking powder and soda, and salt. Cut in the coconut oil (use a pastry cutter or two knives) until the pieces of marg are sort of pea-sized.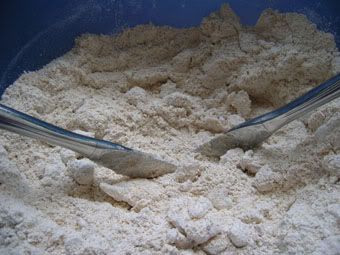 Mix in the "sour" milk just until all the flour has been absorbed. On a clean, floured surface, shape the dough into a 8"x6" rectangle. In a small bowl, combine swirl ingredients. Smear this on the dough.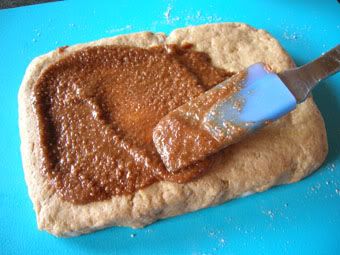 Roll it up...
...and slice into 10 - 12 even pieces. Place them swirl-side up on the cookie sheet, and reshape each biscuit as needed. Assuming some swirl mixture oozed out (like it did here), dollop it on top.
Bake for 12 minutes. Best served warm.