Fruit market
I think it might be fair to say that fruit is my favourite food group.
Fruit is wonderfully nourishing, and a super source of water, easy-to-use natural sugar, fibre, and vitamins.
The trick with fruit though is knowing when to eat it.
As it is easy to digest, it moves though your upper digestive system quite quickly - in about 20 minutes (as opposed to other foods that can take a few hours). So with that in mind, it makes sense to eat fruit alone, or at the begining of a meal. When you eat fruit (especially raw fruit) with grains, proteins or fats, or at the end of a meal, it sits in your stomach, waiting for all the other foods to move through, and ferments. This can lead to acidity in your system - the root of a whole wack of health problems.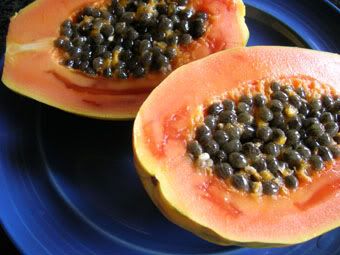 Payayas and pineapples are a good source of digestive enzymes. I've been really into papayas with lime juice first thing in the morning (after my lemon water of course). I then take the fleshy side of the peel and rub it on my face because the enzymes also have an exfoliating action. (Rub on, allow to dry for a minute and rinse off with warm water.)
Now, have you ever noticed that the bottom half of many fruits is sweeter than the top? It's a result of the sugars that are relatively heavy and settle out in a greater concentration near the bottom. Find the end of the fruit where the stem had been attached to identify the top. My mum taught me this with grapefruits when I was little - she'd always generously give me the bottom. I keep this in mind when eating kiwis - I eat the top/more sour half first and end with the sweeter bottom.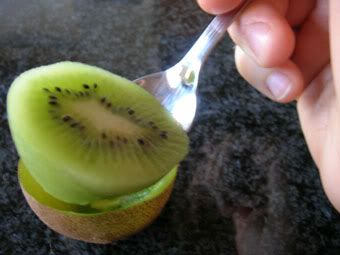 There's a lot to be said for eating locally. But when it comes to fruit at this time of year, we don't have much to chose from in this climate. While you shouldn't be loading up you cart at the grocery store with items from countries you've never been to too often, but I think we should feel free to indulge in organic tropical fruit (or even California berries) or occassion.
Enjoy either of these recipes for breakfast, or as a snack throughout the day. (If you want it for dessert, eat it an hour after your meal.)
Tropical Fruit Salad
Prepare mango, banana, kiwi, pineapple, lychee, papaya and pomelo, chop into bite sized pieces. Put in a large serving bowl and drizzle with lime juice and coconut milk.
Local Fruit Salad
Refer back to this recipe later on in the year (mid-to-end of summer) when you start seeing these fruits at farmers markets.
Prepare apples, pears, nectarines, peaches, blueberries, raspberries, strawberries and melon, chop into bite-sized pieces. Toss with lemon juice (which should keep the tree fruit from turning brown with oxidation) and serve.