Local leeks
My good friend and
food co-op
produce manager Michael came over to make me dinner last Friday (what a treat!). Along with some other amazing organics he brought these locally wildcrafted wild leeks.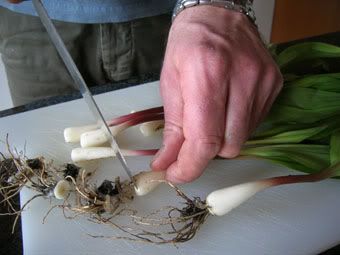 I got out my brand-new
carbon steel wok
and we got to work.
First Wok Stir-fry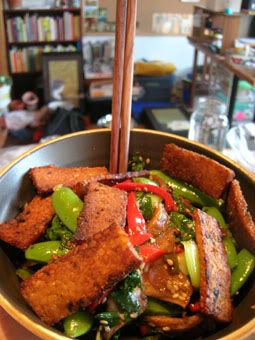 Check out that messy apartment backdrop!
Note: It's pretty hard to write up a stir-fry recipe as I do it all by feel. Know these measurements aren't exact and adjust as you need to.
Marinated Tempeh:
1 240g cake tempeh, sliced into 1/2cm strips and halved width-wise
2 cloves garlic, grated or pressed
3 tbsp. tamari soy sauce
2 tbsp. filtered water
1 tsp. each ground cumin and corriander
a pinch of cayenne
4-6 shiitake mushrooms, sliced
1 bunch wild leeks, sliced thinly
1 large red pepper, chopped as desired
a couple handfuls snow peas, tips removed
2 cups chopped baby bok choy
unrefined non-hydrogenated coconut oil or cold-pressed olive oil, for frying
3-4 tbsp. raw unhulled sesame seeds
toasted sesame oil, to taste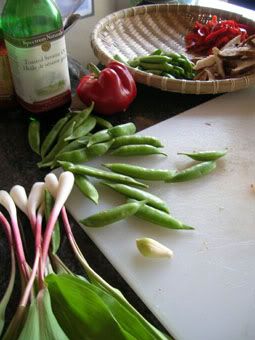 Chop tempeh and place in a medium (non-metal) bowl. In a small bowl, combine mariade ingredients. Pour over tempeh and allow to sit. Prep vegetables.
In a large frying pan or wok, heat a tbsp. or two of oil over medium-high heat. Toss in the tempeh with the marinade, and arrange with a spatula so that all the pieces are lying flat. Cook on one side till they start to brown - about 4 minutes. Flip pieces onto other side and cook some more (possibly drizzling on an extra tbsp. of tamari). Remove tempeh from pan and set aside.
Add more oil (about 2 tbsp.) to the wok or pan. Throw in the mushrooms and bottoms of the leeks (not the green tops, save those for another minute or two). Cook for about 4 minutes, stirring as needed to prevent sticking. Drizzle in a couple tbsp. tamari. Throw in the red pepper - cook for two minutes more. Throw in the snow peas
bok choy, and wild leek tops. Stir to combine. Cover with lid and turn off heat. allow to sit for a minute or two before uncovering and tossing with sesame seeds and a drizzling of sesame oil (this is one of those oils you're not supposed to heat).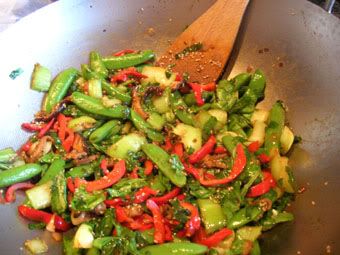 Serve hot in a bowl on its own (topped with the tempeh of course), or on a bed of cooked brown rice, quinoa or millet.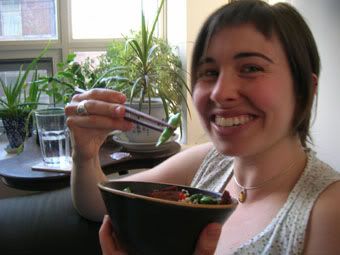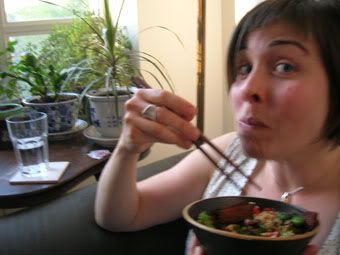 If you've made it this far in the post, please take a moment to say 'hi'. Comments have been dwindling these days and I miss hearing from you! (Is it that I'm boring you?!) Thanks.