Just press it
Oops! Sorry about last week, folks. With this recent move I don't have the internet access I had not long ago. Here's a recipe I'm sure you'll enjoy.
Colourful Pressed Salad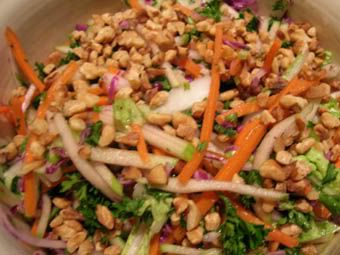 To start, it'd be especially helpful if you had one of the most impressive kitchen tools I know of - a mandoline. I'm not talking about the musical instrument here, but a super-sharp slicer (watch those fingers!). I hear OXO makes a great one, but I went to China Town and picked up a cheaper model - called a benrinner - for about 30 bucks.
This recipe's a bit of an adaptation of one found in
The Hip Chick's Guide to Macrobiotics
by Jessica Porter - a great, accessible, conversational-toned intro to a healthful Eastern diet. Leave it to the Macrobioticas to come up with a smart way to make beautiful raw red cabbage more digestible and flavourful - just press it.
1 cup thinly sliced red cabbage
1 1/2 cups thinly sliced nappa cabbage
1 1/2 cups matchstick-thin-cut carrots
1 1/2 cups thinly sliced Granny Smith apple
1/2 - 1 cup minced flat-leaf parsley or dandelion leaves
1 tsp. sea salt
1/2 tsp. umeboshi or brown rice vinegar (optional)
1 or 2 pinches dulse flakes
1/3 cup chopped toasted walnuts
Get out your mandoline or a good, sharp knife and start prepping those vegetables.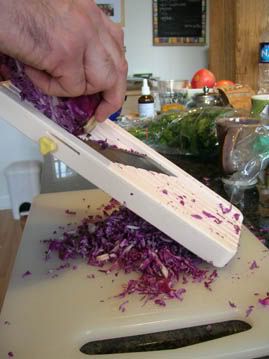 Slice 'em as thin as you can. (No, I haven't had a jump in testosterone levels recently, these are Michael's hands.)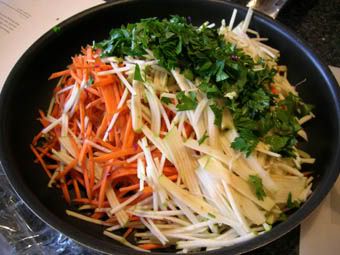 I put the sliced cabbages, carrots, apple, and the herb of choice (parsley or dandelion leaves) in a small skillet because of its flat bottom.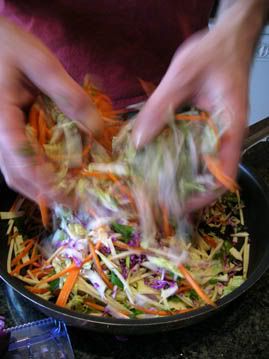 Add the sea salt and toss. Cover it all with an inverted plate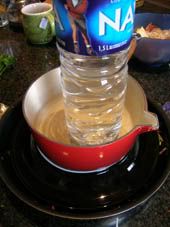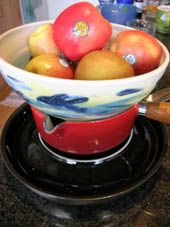 and press (we tried a few different weights: plate > cast-iron saucepan > bottle of water then plate > cast-iron saucepan > bowl of apples) for about half an hour (or a bit longer), until some water has smooshed out. Transfer to a strainer (discarding the water) and rinse. Squeeze salad and put it in a bowl. Toss with vinegar (if desired), dulse flakes and walnuts.
Serves about 4.
Labels: apples, cabbage, carrots, dandelion, nuts and seeds, recipes - salads, sea veggies