Mookies!
Texture like a muffin, shape like a cookie.
I made these for my house cooling party (yes, not only am I moving to Montreal in September, but I have to move today to a different part of Toronto) last Friday, and they were far better than the Lime Coconut Cake (from
Ripe #4
) I accidentally added too much oil to.
Banana Date Mookies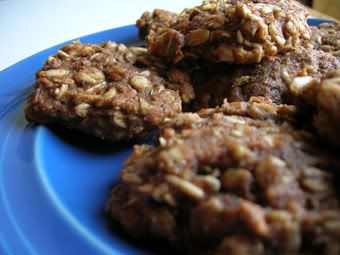 1/2 cup packed pitted dates (about 18 dates)
1/4 cup just-boiled water
2 bananas
1/4 cup coconut oil, at room temperature
1 cup spelt flour
1 tsp. baking soda
1 tsp. cinnamon
2 cups rolled oat flakes
zest of one organic lemon or orange
Preheat oven to 350oF. Pour the water over the dates and allow to soften for 10-15 minutes. In the meantime, grab a large bowl and whisk together the flour, baking soda and cinnamon. Stir in the oat flakes and zest.
In a blender or food processor, blend together the dates with soaking water, bananas and oil. Fold the banana-date mixture into the dry ingedients and stir just until all the flour is absorbed.
Spoon batter onto a lightly oiled or parchment paper-lined baking tray. Bake for about 10 minutes (they'll be soft, but that's okay). Place on a rack to cool - or better yet - eat 'em warm. Makes about 3 dozen mookies.
Quit'cher lurking! Say hi. I missed you last week.