A foodie tour of Scotland
Who says it's tougher to be veg in Britain?
I think it'd be fair to say that a number of the highlights of this overseas vacation were culinarily-influenced. When we'd get to a new city, the sights I'd be most interested in seeing were those inside vegetarian restaurants. I found
this site
to be a really helpful research tool even before I'd left Canada.
All this was excluded from my earlier account of our trip because I'd rather have two mini-marathon posts than one that'd take an hour to read. Hope you find my research useful on
your
next trip to Scotland.
We arrived in Glasgow on a Saturday morning, but slept a good part of the day. In the evening, one of James's programme mentors took us to a health food shop, Grassroots. I spent some time checking out all the products unavailable in Canada and the astounding prices of everything in there (- lost of things were the same numbers on the price tags, but in pounds instead of dollars). Among my purchases for the following few breakfasts were quinoa milk (never heard of it before!) and soy yogurt in wee glass jars (I was impressed to find something other than plastic!).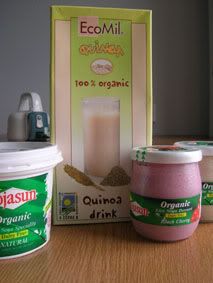 We then walked just around the corner to the
Grassroots Cafe
.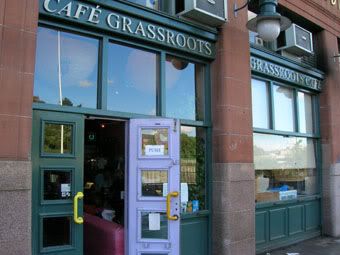 I was really pleased that my 15 year-old omnivorous brother was willing to stay instead of leaving me on my own and going off for 'take-away' somewhere else. The atmosphere was lovely and the food was gorgeous (and especially welcome after the wilted lettuce leaves and gluten-free rock... sorry, roll I'd been offered on the plane). The extensive menu was great because it listed which dished were vegan, and which were wheat/gluten-free. Impressive.
North African Salad: orange pieces, dates, pistachios, almonds, cinnamon, caraway and corriander seeds on a bed of baby greens.
Amazing flavour combo.
Curried Spinach Soup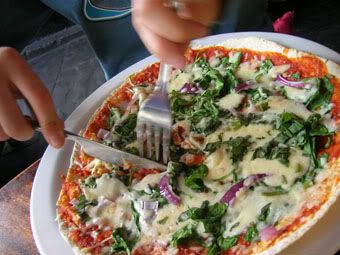 pizza with spinach (or was it rocket?) and red onion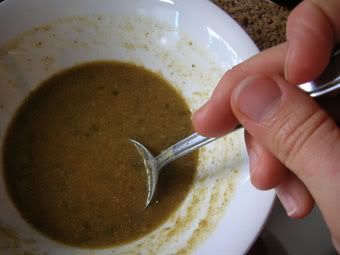 mushroom and parsley soup with rye bread
In fact, I returned to Grassroots 2 1/2 weeks later with my pal Gavin (who I'd met up at
Findhorn
) and ordered the same salad, along with the Risotto Cakes with feta (and that dollop on top is pesto).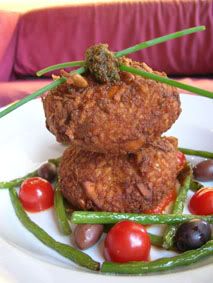 Fried, yes, but very tasty.
Mono is also in Glasgow. I really liked the space: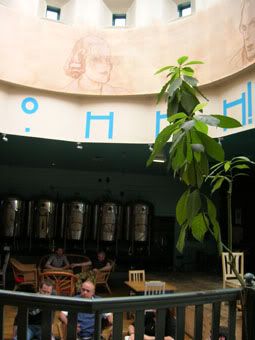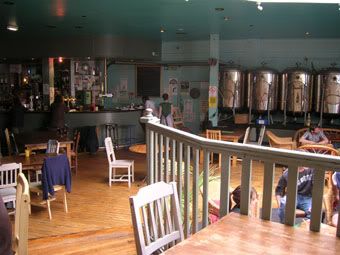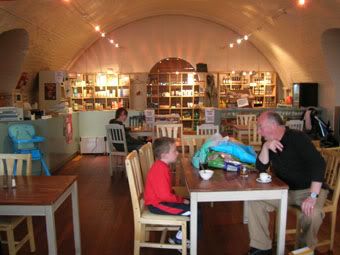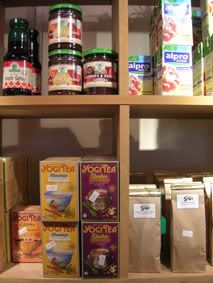 There's a store section, and also a little record shop off to the side called Monorail.
We had to go up to the bar for menus and to order. The menu was smallish (and sticky, I might add) - but I was able to find things I could eat. I picked a daily special, but the cost of 7 pounds felt like more than I could afford, so I asked if I could get a 5-pound portion. The guy behind the bar turned out to be from Edmonton! He said he'd give me a half portion, which when it arrived clearly wasn't just half: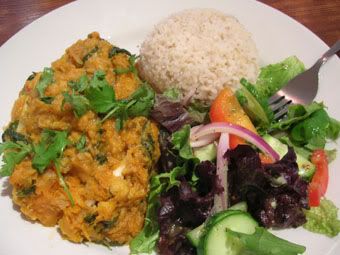 sweet potato curry
- tasty and filling
...and when he only charged me half price I was very grateful. So needless to say: friendly staff.
While we were still downtown, we stopped into one of the three big grocery chains in the UK. I was really impressed to see signs like these up in the produce section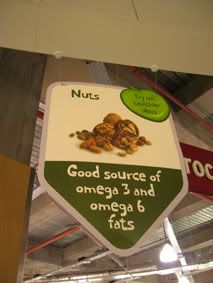 and would have liked to have captured the signs about folic acid and such, but some managerial-seeming employee came up to me when I had my camera out and started yelling at me about
How Would I Like It If He Came Into My Home And Took Pictures?
, telling me I should contact the Head Office, to which I responded that I'd like to because I was really impressed with their signs, but he didn't believe me and called me
childish
. James was mortified and went to wait outside, so I had to stand in line on my own, waiting to pay for some hummous.
Henderson's
is an Edinburgh restaurant I'd heard lots about, but in the end I wasn't all that impressed.
We arrived and walked down some stairs to a cafeteria-like set-up, and were informed that the sit-down service was down the street. So off we went.
The service was okay, the food was... okay.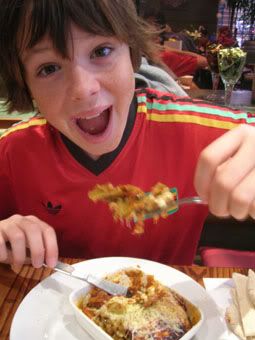 James' lasagne (He picked out the zucchini.)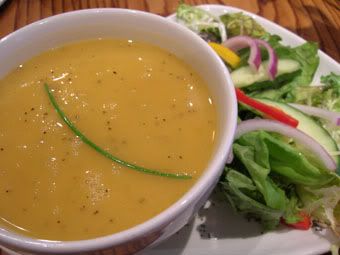 sweet potato and fennel soup with salad (from James' lasagne - I traded for the bread that came with my soup)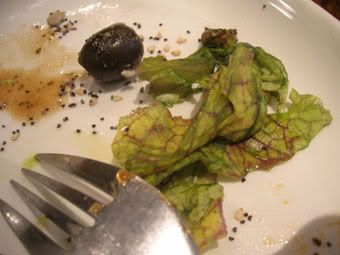 icky slimy leaves in with my salad - the salad was small enough that it should have been noticed (am I being to picky? I just don't like funky greens on my plate.)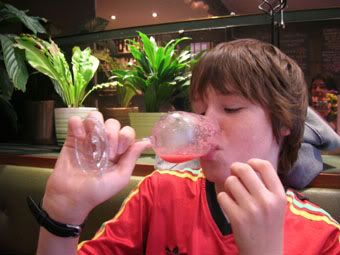 James' blended juice was too small in my humble opinion for 2.50
The redeeming ending was that they brought bite-sized organic mint chocolates with the bill.
I'd read in my guidebook about The Elephant House where it is said that JK Rowling wrote much of the first Harry Potter book.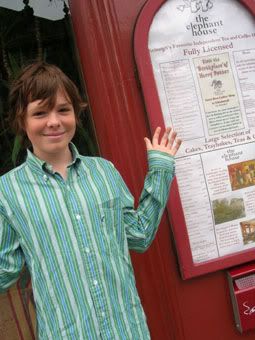 James and I made a point of going in, but it was early on in the day and we realized that neither one of us was hungry or thirsty, so we left.
David Bann Restaurant
was also mentioned in my guidebook. Rather swanky and not
too
pricey (relatively speaking), though I could see how one
could
easily ring up a large bill. This was a great chance to meet up with new friends, and for them to meet my brother.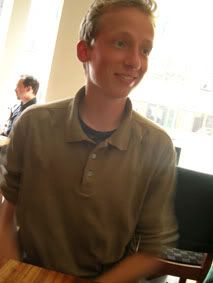 Christian, who's from Germany, came down from Findhorn for the day. (He's just started a six-month programme up at Findhorn.)
Lindsey, who's from Colorado and was in my Experience Week group up at Findhorn, was also in Edinburgh that weekend.
My salad and Lindsey's soup arrived first.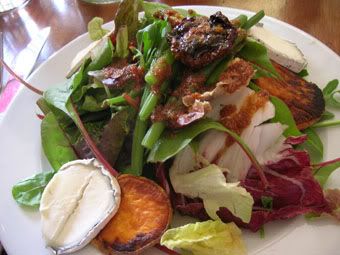 Roasted sweet potato and goats cheese salad: "Chunks of roasted sweet potato and goats cheese, with home sweet dried tomatoes and green beans on a bed of rocket mixed salad, finished with a red pesto."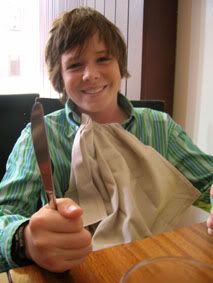 James waited hungrily for his meal to arrive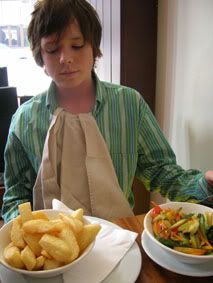 Two sides: vegetable stir-fry (I scored his zucchini again) and chips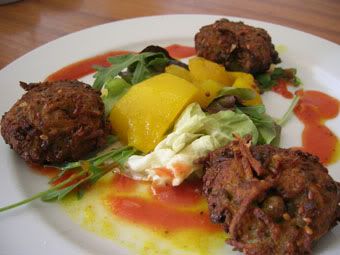 Lindsey got Thai fritters: "Aromatic, spicy fritters of smoked tofu, peas, ginger, green chilli, lime, sesame and potato. Served with fresh mango chutney and a roast garlic tomato sauce."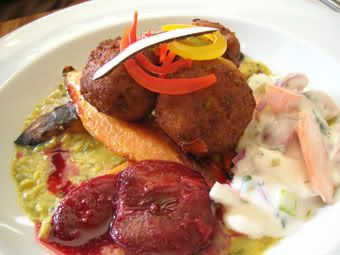 Christian got Kofta, coconut daal and sweet potato: "Aromatic and spicy chickpea and cauliflower koftas with caramelised sweet potato. Served with a coconut, coriander, ginger and mustard seed daal, a crunchy yoghurt raita and plum chutney."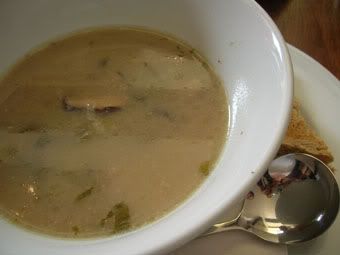 My shiitake and coconut milk soup arrived, but it was unbelievably salty, so I exchanged it for this: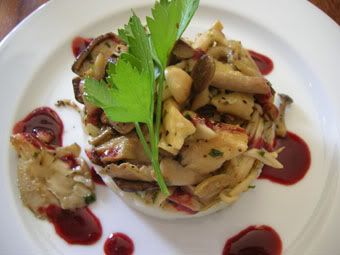 Mushroom medley with tarragon: "A variety of mushrooms including shiitake and oyster lightly cooked with white wine, butter, garlic and tarragon. Served on a creamy mash and braised leek with a raspberry vinaigrette."
Before we left town, I stopped at a near-by health food store and picked up this, which I've brought back to Toronto to try.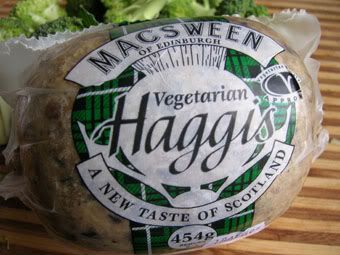 I'll let you know how it turned out!