The British Vacation
First off, thanks for all for your UK travel suggestions from a few weeks back. I'd planned to blog while overseas, but time just got away from me.
Here's the first of two UK posts (I won't blame you if this one doesn't grab you, even with the knitting content; come back Friday though for the food installment):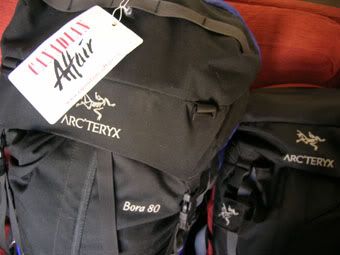 Domestic Affair goes Canadian Affair! Hokey name for an airline carrier, eh?
The flight was thankfully on time (unlike the hours and hours delay we had to Italy last Fall with the two little ones both being until three years of age at the time). James (my 15 year-old brother) got the window seat and this older gentleman, who was somewhat posessive of his space, sat next to me. Needless to say I didn't get a wink of sleep all night.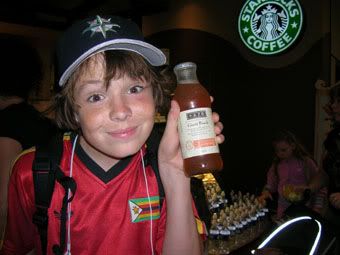 Here's James with his Giant Peach juice still at the airport (hope you're catching the literary reference there).
It's worth mentioning that what initially got the idea of this trip into our parents' head was because there is a
camp programme
at the
University of Strathclyde
, offered to the children of alumni, and James was just the right age to go. It was suggested that I accompany him. Once I'd dropped him off in Glasgow I'd have two weeks to run around with a British Rail Pass in hand, before meeting back up with my brother and spending another week visiting relatives and friends before flying home.
We were met at the airport by Phill, one of the lovely
"mentors"
of James's camp programme. In the parking lot, I tried to get in on the right side of the car, forgetting it's the drivers seat in that part of the world (a bit of an embarassing first impression to give). Driving back to the residence James remarked that he wouldn't mind Phill driving on the
wrong side of the road
so much, if only it weren't so fast.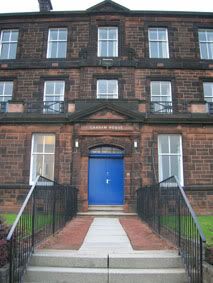 We arrived at the residence mid-morning and immediately had to go to bed.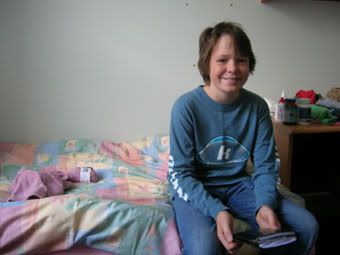 jet-lagged James post-nap
A full day in Glasgow, then down to England for me. First stop beautiful Bath, where I was welcomed by long-time friends of my mum and dad's.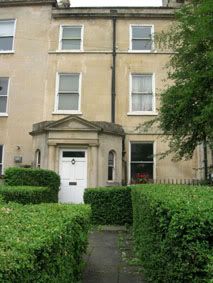 The temperature got up to 32oC and everyone was exclaiming about the heat. I explained that that's no great shakes by Toronto standards. I don't know if you know, but Jane Austen is claimed to be Bath's most famous resident. Seemed fitting, as I'd brought
Pride and Prejudice
for my holiday reading, to visit the
Jane Austen Centre
but I was informed Jane didn't actually like Bath all that much and the centre isn't all that great.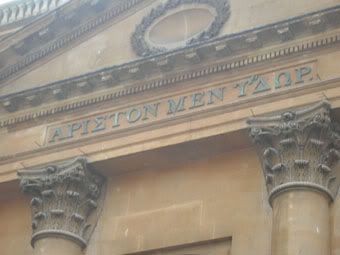 outside the Roman Baths - this says something about water in Latin and for the life of me I can't remember what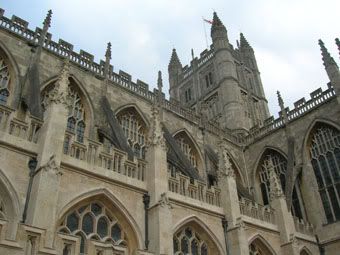 The Bath Abbey - side view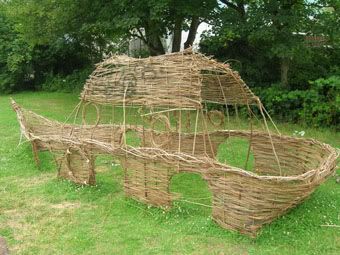 Then down further to Devon (in the south-west of England) to visit my fairy godfather, Don Jesse.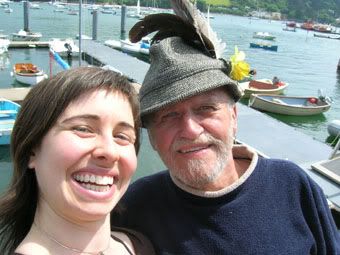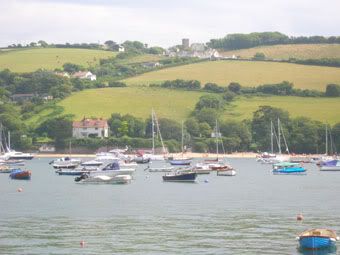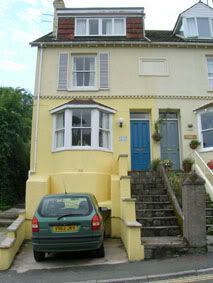 This used to be Don's house in Salcombe. I'm told my dad built the roof (decades ago).
The train from Don's back up to Glasgow was 8.5 hours (thank goodness for my iPod and my knitting!). I just stayed overnight before hopping another train at 7am for
Findhorn
.
The
Findhorn Foundation
is a spiritual
intentional community
that was established in the 1960s and well known around that time for growing 40-pound cabbages on sandy northern Scottish land thanks to Divine guidance. Sadly for this blog post, I didn't take any pictures during my week there - I was too busy just
experiencing
. (It's really worth checking out their website throught the various links here for more info.) I got to work in the kitchen for four mornings during my stay - where I helped make soups and salads for 140 at a go. It was a really great week. Though I've visited many intentional communities in the past five years or so, I've never seen the concept of acceptance so beautifully in practice as I did here.
This week was follow by another long train ride down to Lockerbie to meet up with James and stay with relatives and go beach-hopping. Then to Aberdeen (so many 48-hour visits!), with an outing to
Crathes Castle
and the seashore. Then to Edinburgh for more fun with old family friends (not to say that they're
old
, but their relationship with my parents is relatively old... oh heck, you know what I mean!). Upon our arrival I was presented with some beautiful Scottish wool, the skein on the right having been dyed with nettles.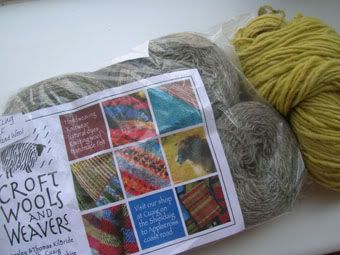 And, I found a knitshop within 10 minutes of where we stayed.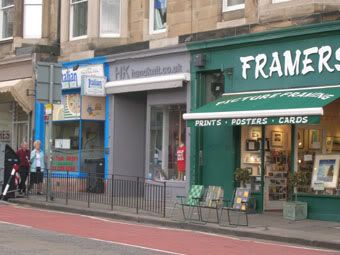 it's the grey one in the middle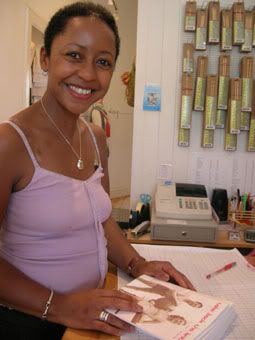 Jeanette is the lovely lady who owns the shop. And I'm proud to announce that
Take Back the Knit
is now available in the UK! Just nip over to
HK Edinburgh
.
There was
Rowan
on sale, and
Kidsilk Haze
for just 6.75 (we're talking pounds here, but still) and I couldn't resist. (Rowan's from that part of the world and it's important to support local business, wherever you are.)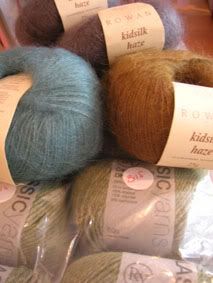 Now James said
no art galleries
on this trip, which was disappointing for me because I tend to love them (and their usually-free admission) so. In Aberdeen I managed to go to one without him. In Edinburgh I got to two galleries before he'd even woken up one morning (one of which had a nice Van Gogh exhibit), and by the time we'd got to the third, he caved and was willing to come in with me.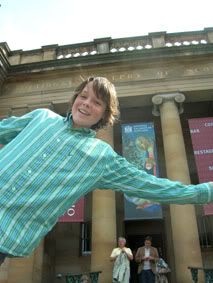 Our last morning, we hopped on a train back to Glasgow and made our way to the airport with plenty of time to spare at the terminal. The flight home was better as I got the window seat this time, and the movie was
Ice Age 2
- a great improvement on
Big Momma's House 2
, the outbound movie.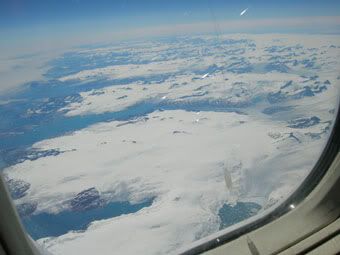 I'm stratching Greenland off the list of places to live in my lifetime.
Still no sleep for me on the flight though, and I've been waking at 5am since our return home, which is driving me a bit nuts.