Easy V (And you thought I'd forgotten how to knit!)
So I couldn't interest one of you in my UK Food Report, eh? (I only blog for those lovely comments of yours, you know.) Perhaps this is more up your alley...
A three-week trip overseas requires a knitting project or three, no?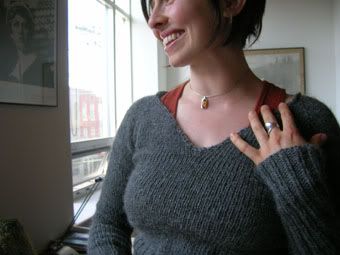 I have finally knit my first sweater that
actually
fits.
Hip hip hooray!
It's
Stefanie
's
Easy Raglan V-neck pattern
with some adjustments.
The deets:
Yarn:
Lamb's Pride Worsted
(190 yards), in Charcoal Heather; 3.5 skeins
Needles:
Denise
size US8, Addi Turbo US8 12" circs (yay for DPN-free sleeves!), and whatever crochet hook I had around
Timing:
July 3-24, 2006
Notes:
* The pattern called for 7s, but I'm not such a lose knitter.
* I knit the second size - a 32-34" bust, which I am not, but I find that if I knit for my bust size I get a baggy sweater instead of the fitted look I want.
* i'm really pleased at how simple this pattern was instruction-wise. When the write-up's got too many details, I lose interest. I need to be able to be able to sit and knit at a stretch without having to refere to my notes.
* I'm thrilled at the way this baby fits - the fitted arms (no underarm bagginess!) in particular.
* To start the sleeves, I cast on an extra 4 sts under the arms.
* I adjusted the sleeves for almost 9" of P2K1 ribbing (maybe a little excessive in hindsight), and I made them long enough to cover the heel of my palm.
* I think I also made the body long than was called for.
* The pattern doesn't call for any finishing around the neck, but I found the increases for the V looked pretty rough, so I did a little primative crochet (I'm terrified of those hooks!) along the front of the neck only. You could certainly crochet around the back of the neck too If you didn't want the little rolled edge. I'm into how wide the neck is.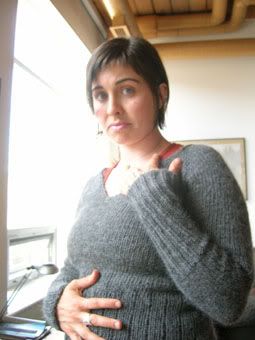 No, though that hand on my belly may be suggestive, I'm not expecting. Here's where we get to the bad news about this garment: I started a K3P1 rib at what I've now found to be an awkward place. I put the sweater on and sighed, trying to accept that I'd plumped up a bit over my vacation, but then my mum (who might be called a petite woman) tried it on and she got that thick-in-the-middle look too. What's a grrrl to do? I at least want to enjoy wearing the FO for another week or two before ripping back and starting the rib further down.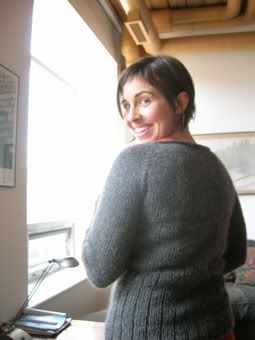 Cute, no?
I'm all reved up for knitting now! After almost a year of feeling somewhat -
gasp!
- ambivalent about knitting, I'm finally back at that point where if I'm sitting down and I don't have knitting in my hands, it feels like something's missing. Aren't you proud of me? Now, I wonder if I have the self restraint to finish off an old project before starting in on something completely new...
PS. For the record, I also finally finished my second minisweater (that'd been started last summer) when we first arrived in Glasgow, but I'm just not interested in modeling it for you yet.
Labels: knitting