It's Friday already
I've been in Montreal all week trying to set things up for my move next month, and having a food post prepared completely slipped my mind. Sometimes I write back-up posts - say, I have a week with lots going on food wise, so I prepare to posts and only put up one, saving the other for later - but right now I'm fresh out.
When I'm a house guest somewhere, I often gift people with one of my cookzines, which on more than one occassion has ended up being of benefit to me. Case in point: I've been crashing at my friend Alison's apartment here in Montreal for years, so all I had to do to find a recipe to post this morning was walk over to her cookbook shelf and pull off a copy of my first cookzine ever,
Vegan Freegan
, and pick something out for this Foodie Friday.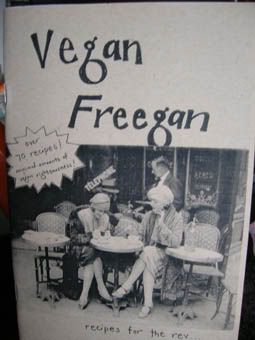 (... which, by the way, you can still
order
from me. Many of the 70 recipes in this zine will likely never appear on Domestic Affair, so I encourage you to get a copy yourself.)
Decadent Date Smoothie
Great for those hot summer afternoons when you'd like something like a milkshake. I enjoyed something like this at Aux Vivres, my favourite veg resto in Montreal, just yesterday.
5 dates, pitted and chopped
about 3 tbsp. just boiled water
1 frozen banana, roughly broken into pieces
2 tbsp. almond butter
1/2 tsp. cinnamon
at least 1 cup of your favourite organic non-dairy milk, cold
Put dates in a wee dish and pour on the just boiled water. Allow them to sit for a few minutes to get soft. Toss the banana, almond butter, cinnamon and milk in a blender along with the dates and the soaking water. Give it a good whirl. Add more milk if a thinner consistancy is desired, or more almond butter or cinnamon to taste. Whirl again. (If, for some reason, the smoothie isn't cold, transfer to the fridge to chill.) Pour into a fancy glass, and garnish with chopped almonds if desired.
Serves 1 (but the recipe can easily be doubled or tripled).
Labels: almond butter, banana, dates, recipes - desserts, smoothies, spices