Rich n' raw
To start I'll admit that with the low number of comments here on the blog over the past few weeks, I feel like there are only five people in the whole entire world who're reading. Which is fine, but you know how I get pumped up by comments. I feel like it's a fair trade you know? I give you a recipe, you say "hey, looks good" or "I don't get it" or whatever you're inspired to say. So, moving right along...
I think I've mentioned to you before the benefits of raw, living foods. They provide us with the digestive enzymes we need to break down whatever it is we're consuming. Foods cooked at a temperature over 118oF start to loose those enzymes. I can't remember if I mentioned
this raw foods article
I had published a few months ago on a site by a fellow holistic nutritionist.
Alright then, on to the recipe!
Raw Cocoa Mousse
Oh-ho! Have I got a rich dessert for you! This creemy treat whips up in just a minute or two - all you need is enough patience to let it cool in the fridge. Avocados, so's you know, are a great source of B vitamins, folic acid, potassium, tryptophan and zinc.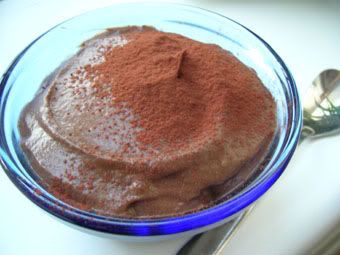 1 ripe avocado (about the size of larger fist), peeled and pitted
1/2 cup coconut milk (good quality, not 'lite')*
2 tbsp. raw agave nectar (or raw honey)
1 tbsp. cocoa powder (dutch processed preferred)
Throw all the ingredients into a blender (I used my handblender) and whirl until smooth - about 30 seconds. (You may need to stop the blender, scrape down the sides with a silicone spatula, and whirl again.) Scrape mousse into two bowls and allow to set in the fridge for an hour or two. (Alternately, if you have a ripe avocado already in the fridge, you can make the mousse and allow it to cool for just half an hour.)
Serves 2, and I say that not because the recipe makes a lot, but because it's sooo rich. This recipe is easily doubled or tripled.
* Technically, this recipe isn't completely raw if you're using canned coconut milk. Do you know how to make your own from fresh coconut? Maybe that'll be a tutorial for next week.
Labels: agave, avocado, cocoa, coconut milk, puddings and mousses, recipes - desserts