Sprouts and roots
Necessity is the
mother of invention
, yes? (I'll admit, I first learned that turn of phase because of Frank Zappa - strange because I'm not sure I could recognize his music if I heard it, but his daughter
Moon Unit Zappa
and I do share a birthday - September 28. It's funny, things that you remember and think to say, hey?)
Anyhow, Monday night Lindsay invited me to dinner saying that she was going to make a lentil salad on a bed of greens (gotta love fellow holistic nutritionists who're obviously making food I can eat!) and that I should bring a side. I looked through my fridge and couldn't think of what to bring that wouldn't also include either greens or a legume. And then I remembered the adzuki beans I'd just sprouted (ah, another tutorial to deliver at some point) and the beautiful beets I'd picked up at the
farmers' market
the Thursday before.
Root and Sprout Salad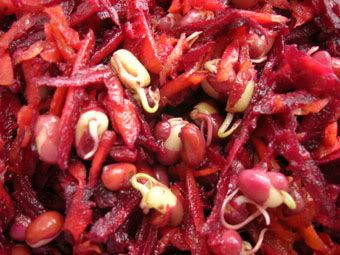 Is this a salad, or is it a slaw? (What is the definition of a slaw, anyway?) Whatever it is, it's nice to come up with a sweet raw dish that includes both the contractive quality (translation: grounding) of roots (beets, carrots and ginger root - you can see that because they grow in the ground, yes?) and the expansive quality (translation: opening-up) of sprouts. This could also be nice with some fresh chopped parsley (like 1/2 cup?), and maybe a tablespoon or two of fresh lemon or orange juice. Try it out and let me know!
1 fist-sized beet, grated (about 1 1/2 cups grated)
3 medium carrots, grated (about 1 1/2 cups grated)
2 cups bean sprouts (I used home-sprouted adzuki beans)
the dressing
2 tbsp. flaxseed oil (ooo, try
Omega Nutrition
's Orange Flax Oil Blend)
2 tsp. freshly grated ginger root
1 tsp. honey or agave nectar
1/2 tsp. sea salt
In a large bowl, toss together the grated* beets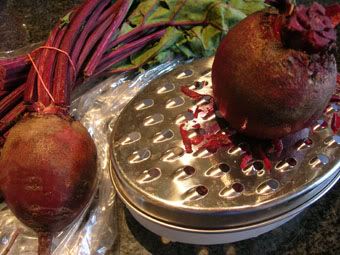 and carrot with the sprouts.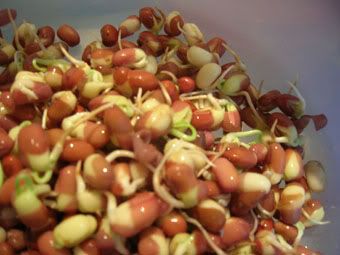 Mix the dressing ingredients together in a small bowl and drizzle over the vegetables. Toss again. (What's nice is that the beets will stain the adzuki skins a strong pink colour.) Allow flavours to meld for a bit before serving on a bed of fresh (raw or lightly steamed) organic greens, or maybe in a sandwich, on a burger even... I'm sure there are lots of options.
* Okay, can I just take a moment here to sing the praises of my Ikea grater? It's so much more practical than those box graters that you have to prop up on a plate or cutting board where they may slide around and make a mess. I'm not usually too into Ikea kitchenware, but the idea of a grater fitting right on to a tupperware container, that you could just cover with a lid when you're done grating, is just so smart. And it comes with a finer grater too for things like ginger root.
Oh and I cannot forget to thank you all so much for your lovely comments from last week. So sweet of you. I ask, and you deliver. I love it! Keep it up! Merci bien!
Labels: beets, carrots, flaxseed oil, ginger, recipes, sprouts