Minty fresh
I just came up with this recipe this morning! (For all of you who only visit on Fridays, but sure to check out last week(end)'s cake post below if you missed it.)
Mint Cookies
Biscuits a la Menthe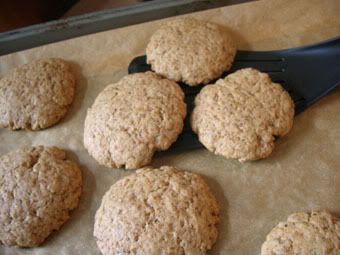 Don't be scared to use essential oils in your baking (it's more pure than bottled "flavouring"), but keep in mind, a little goes a looong way!
2 cups light spelt flour
3/4 cups organic sugar/evaporated cane juice
1 1/2 tsp. dried crushed peppermint or spearmint leaves (about 1 tea bag's worth)
2 tsp. baking powder
1/2 tsp. baking soda
1/4 tsp. sea salt
2/3 cup organic sunflower, canola or non-hydrogenated coconut oil
1/2 cup vanilla non-dairy milk
6 drops peppermint essential oil
2 tsp. apple cider vinegar
Preheat oven 350oF. In a large bowl, whisk together the flour, sugar, mint, baking powder & soda and salt. Add the oil, milk, and essential oil. Mix to form a good uniform dough. Pour in the vinegar and mix dough again just to distribute the vinegar evenly.
Roll dough into small balls (smaller than a walnut in its shell, larger than a cherry), and place on a lightly oiled or parchment paper-lined baking tray. Flatten with a cookie press or the flat bottom of a glass. Bake for 10 minutes. Allow to cool on a rack before storing in an air-tight container. Makes about 3 dozen cookies.
Labels: cookies, peppermint, recipes - desserts, spelt flour